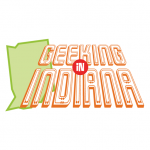 Over the past few weeks, I've been running some polls over on the Indiana Geeking Twitter feed (second best Twitter feed in Indianapolis, as voted by readers of Nuvo in both 2015 & 2016!), to see what people think has been working, what hasn't been working, and to bounce some ideas off the Twitter group brain. Now, these polls didn't pull in a ton of responses. In fact, I think the highest number of responses I received was twenty three on one I'll be referring to in a little bit. I won't be going through all of them, because some deal with things that might not happen due to events that have occurred since the poll was ran, but I do want to touch on a few of them here.
First, let's look at an easy one: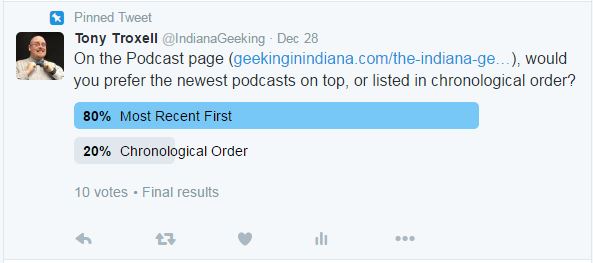 From this poll, I found out that eight out of ten readers would prefer the podcast summary list on the Indiana Geeking Podcast page to list the most recent episodes first, instead of going in chronological order. This was taken care of yesterday, and it now has the most recent episodes at the top, and the oh-so-forgettable early episodes with just me and a microphone buried at the bottom of the page, where they truly belong. So, thank you to the 80% that helped me find a reason to bury that shame!
Next, let's look at one that made me happy: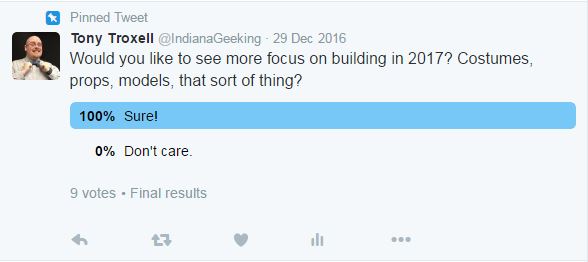 Let it be known that I am, by no means, a skilled cosplayer or builder, which is why I think this would be kind of interesting. As people who have followed me knows, I have no problems talking about mistakes I've made, and I want to put that stuff out there so hopefully people can see, not only what worked for me, but what didn't, and hopefully learn from my mistakes. So, count on the Costume Initiative and the Geek Building pages to get a workout this year, as I kick off with the redo/rebuild of my Rebel Fleet Trooper costume from Star Wars, and then move on to learning how to use a sewing machine, try my hand at working with pieces from a 3D Printer, and starting to mark items off of my costuming bucket list. This is all stuff that I was really wanting to focus on in 2017, and I'm glad that all nine of the people who felt like voting agreed.
Now, the last one I'm throwing up here has me a bit torn.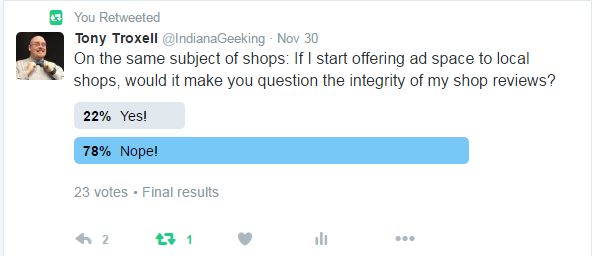 Over the past few years, I've had fellow bloggers and creators ask me why I haven't attempted to sell ad space on the blog, or podcast sponsorship, to local businesses. When asked, I would mention about how I already write about shops without charging them, so why would they want to give me money for an ad? Well, a few people kept mentioning it to me, so I threw the question out about how people would view my FLS Friday posts if I offered ad space. In case you can't see the graphic, out of 23 votes, 22% would question the integrity of my shop reviews if I offered ad space. I'm now a bit torn, because as I'll talk about on Friday, I have plans to really expand the shop visits, and posts, and I don't want people to roll their eyes and think a shop just got a good review because they gave me money, which is seems nearly a quarter of my readership would do. However, the flip side is, I need money to do with this blog what I wish to do. I have a lot of cool stuff in mind, that I think people would really enjoy, but even basic blog bills even out to about $50 a month, and I'm pulling in nowhere near that through Adsense and Amazon, and the PayPal "Donate" button has gone unused since the Geek Cat had his medical bills. So, I need to figure something out, and fast.
As I said, I have a few more polls that I'm looking to get the information out on, but those are coming on blog posts on Friday, and then when I can actually make an announcement based on the subject of the post, one way or another.
So, did you have the opportunity to vote in any of these? Do you have thoughts or opinions? Give me a shout down in the comments, let me know what you think!
Tony