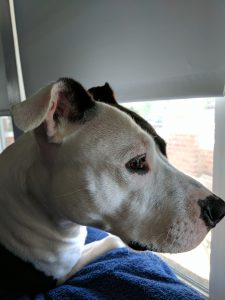 Okay, I'll admit that I'm just phoning it in today. It's been a long week at work, I'm bereft of ideas for today's post, and I'm getting things around for a weekend visit to Southern California to visit the Geekling. To top it all off, I fell down an IMDB rabbit hole, looking at former co-workers from Blade II, and seeing how many of them are still working in the FX industry.
So, I'm going to give you all some bits of randomness, of things I think are cool, but don't warrant their own blog post.
Again.
First off, you know how I mentioned my surprise 40th birthday party? I failed to mention that, when I turned 40 years old, I came home not only to people in my house, but Star Wars bed sheets and a comforter. No, I don't have pictures of them on my bed, because that would involve me actually making it, but I at least can show you the sheets, which Target still has on their website, here! They come in Queen size!
Second, and I'll be working on this closer to the show as well, but so far, it looks like I'll have small stickers, as well as patches, available at Indy PopCon! I'm still working on pricing, but the stickers should be around a buck, and a fiver for the patches. The design work was provided by the ever-awesome TikiKitchen, but everything else was me, so if they are too small (my worry), it's ALL MY FAULT and it's a learning experience. I'm not sure how great of an idea Geeking merchandise is, anyway, but I wanted to give it a shot. Sadly, everything else I'm looking at, like the fidget spinners and the pins, probably won't be in until after the show, because I have horrible time management and reading comprehension, and I was too late on my orders!
However, I'm going to be speaking with Spencer with Studio 27 Indy (the folks who kindly keep this site up and running) about starting a webstore that will be kicking off mid-July, to make it easier for you to get your Geeking in Indiana pins, stickers, fidget spinners, and other items!
Finally, I'd love to give a shout out to everyone that's been helping me out via Patreon! Fear not, Patrons, some of this merch is being set aside as thank you items when people hit a certain point. I need to figure out how I'm going to do it, but it shall be done!
With that, I need to schedule a Patreon post for Sunday, and then go downstairs and finish packing. You all stay awesome, look for a Media Monday from Grant, and then I'll be back with Tuesday Tidbits!
Tony