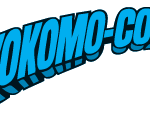 In less than a month, the town of Kokomo is going to be once again graced with one of the grooviest one day comic and toys shows in Indiana. That's right, we have the return of Kokomo-Con! This single day show will be happening on October 14th, from 10:00 AM to 6:00 PM, at the Kokomo Event & Conference Center, and the entry fee is just $10, which means you're able to have more money to spend at the vendors that will be on hand, selling everything from toys to art to costume pieces.
Now, while it's still a bit early for a "Things to Do" post for this show, I wanted to get the word out there for a couple of reasons. First off, I want you all to have enough advance warning, so you can get it on your calendars! I know October is traditionally a busy month for a lot of Geeks, so I wanted to give you more than Tuesday Tidbits posts and a few days heads up. Remember, this might be a small, one-day show, but it's got a lot to see, a great costume contest, and Shawn brings in some great creators, like local comic creator Paul Allor (Clue, TET, Teenage Mutant Ninja Turtles) and guest of honor John Ostrander (Suicide Squad, Spectre). This is on top of game vendors, comic vendors, toy vendors, costume vendors, local artists, the full nine yards. You can even find reviews of the 2014 and 2016 shows here on the blog (I also went in 2015, but that was costuming with the Rebel Legion, so I didn't have much to write about). It's a fun show, the show runner is a groovy guy, and I love to throw my support at them.
Did I mention the show runner, Shawn Hilton, is a groovy guy? He's so groovy, he's invited me up to Kokomo to guest on their "Geekstorm" public access show, and he's also provided two tickets to one of Geeking in Indiana's readers! That's right, folks, if you want to give it a shot, I have the chance to have two tickets for Kokomo Con waiting for you at "Will Call", the day of the show! Does this sound like something you might be interested in? Well heck, here's the Rafflecopter contest, and a rundown of what you need to know:
The contest will be running through 12:00 AM Eastern on October 8th, the Sunday before the show.
The winner will be notified any/every way I can (Twitter and/or email, probably), and I will need to hear back within 24 hours, or else I'll choose another winner.
The winner will receive a pair of passes (that's 2) to Kokomo-Con 2017 in Kokomo, IN. If you can't make it, please give those who can a chance!
Winner's name will be provided to Kokomo-Con, and the passes will be available at "Will Call" when you attend the convention.
EDIT 9/22 – I would like to point out that Rafflecopter does let me audit the entries, so if I see you put in entries for following Comics Cubed and I on Twitter, but I can't even find your listed account, those entries will be removed. I do believe it's a reasonable expectation that your entries be truthful.
Have fun! Good luck! Share with your friends! I'll see you at the show!
a Rafflecopter giveaway
Note: This is a contest, with a prize offered by Kokomo-Con, in order to help promote their upcoming show. Geeking in Indiana is not compensated in any way for this contest, and all opinions of past shows are obviously our own, seeing as they were written well before we were offered these tickets to give away to our readers. Geeking in Indiana, as always with smaller local shows, will be insisting on paying our own way in to the con. These tickets are all for you! Good luck!