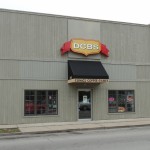 In 2010, when I first started Geeking in Indiana, I took a trip up to Fort Wayne over Labor Day weekend, to visit some shops. One that I could not find, despite having Google Maps, was Discount Comic Book Service (DCBS). Over the past few years, I'd always hear followers and friends up in Allen County talk about how good of a shop it was, but I never had that great of an opportunity to head back up I-69 to check it out. Fast forward to a few weeks ago, when I was at Appleseed Comic Con. For lunch, Chris Ludden and I decided to pick up food for ourselves, and some of the folks who had to stay at their tables. After walking a mile and some change from the convention center, we entered our destination restaurant only to find out their online menu didn't match what they actually carried. As we were leaving, planning our next move, Chris brought my attention to the store across the street.
It was DCBS.
After scurrying across the street, we took a quick look inside, that ended up not being so quick to those who were waiting for food (Sorry, Gin and Bri!). Inside this unassuming facade is one of the brightest and most open comic shops I've been in, with a coffee bar to boot! They have display islands, and display cases, through most of the store, showing off their collectibles and non-book merchandise, like the model starships and Batmobiles from Eaglemoss, or the collectible cold-cast statues that have been a big collectible since I worked in a comic book shop close to twenty years ago. Across the back wall is all of their newer comics, to the right is a Kid's Section, and their graphic novels. The coffee bar is by the front door (sadly, didn't try any coffee. I will on the next trip, and report back!), and their back issues are in a custom filing cabinet by the counter.
The shop was clean, well stocked, and the gentleman behind the counter was friendly, even when a blogger came out of left field to talk to him about the shop, and take some pictures, and that blogger was followed by a webcomic creator who was talking about a Fort Wayne Chapter of a webcomics meetup group! The guy took it all in stride, and was very friendly.
DCBS runs a large online business, in addition to their storefront, so their hours are a bit weird. However, they look to be a great asset to the Fort Wayne Geek Community, and is definitely worth a drop by if you happen to be in the area!
I'm glad I was able to find this location, and here is what you need to know to find it yourself:
Who are they? Discount Comic Book Service
Where are they? 2001 S Calhoun St, Fort Wayne, IN 46802
What are they? They are both an online store for comics, trades, and collectibles, as well as being your Friendly Local Comic Shop, with games and a coffee bar.
When are they open? Wednesday through Friday, they're open from 11:00 Am to 7:00 PM. Saturday, they're open 10:00 AM to 5:00 PM, and they are closed Sunday, Monday, and Tuesday.
What is their phone number, in case I get lost and need directions? 260.489.1787
Just kidding on the phone number! Internet! Where are they online? Their main spot is their website, but they also have a Twitter Feed, as well as a Facebook Page.
This slideshow requires JavaScript.