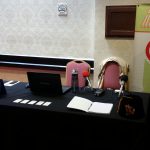 One thing I used to do on the blog is take the concept of "Follow Friday" on Twitter, and move it over here. I would find someone, and tell you why you should follow them on Twitter. Well, this week, since I still haven't visited any shops, I decided to take that, and apply it to our local convention scene! So, if you are a Twitter user, here are some of our Hoosier conventions, and why you should give them a follow over on the Tweet site!
Note that all conventions are listed in alphabetical order, as to not show favoritism to any particular one. Also, please remember that all the convention information can also be found over on the 2017 Convention Listing page, and the 2018 Convention Listing page will probably pop up around Halloween! Also note that if a page hasn't shown any activity in the last year, I can not in good faith recommend that you follow them.
So, who's on Tweeter?
So, give these folks an add, a follow, and some interaction love, as well as giving them your money when their con comes around!
See you next week!
Tony