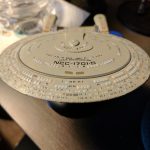 All right, until I get out and visit more shops, I've been doing little bits of info on Fridays. These bits of info are just tiny little morsels, things that are too small to fill up an entire blog post, but a few of them, consumed together, can be satisfying and take the edge off. Thus, "Finger Food Friday" is born. Yes, I have a love for alliteration, in case you couldn't tell by the presence of Media Monday, Tuesday Tidbits, the occasional Throwback Thursday, and so on.  So, what tasty little bits of finger food do we have this week?
San Diego Comic Con 2017
SDCC has started out in southern California, and there's already some cool stuff that has come to my attention, despite me not paying a lick of attention to it due to a hectic work day. The first major thing is the upcoming 1/6 scale Ghostbusters Ecto-1! I saw this article from ToyArk cross my news feed, and while I'm not huge on the 1/6 scale figures from Blitzway, despite them being gorgeous, I need this car. It's right up there with the Hot Toys BTTF DeLorean that came out there a few years ago on my "big toy car" needs list! In addition, Radio Flyer has announced they are making Luke's Landspeeder for kids! Yeah, we had Power Wheels when I was younger, but kids now can have a frakkin' LANDSPEEDER. I'm kinda jealous, but with a 130 lb weight limit, I'm going to leave it for the kiddos. You can see information on it in this Nerdist article, which includes a video! Finally, I'm starting to see pieces from Star Trek Discovery that are making me happy, and if you're curious, they're keeping track of everything at TrekNews.Net! There will be more SDCC info next week!
Geeking in Indiana Shop
Well, Spencer has installed the eCommerce plugin for the blog, and I'm slowly loading in products, and then I need to do testing to make sure everything is secure, money goes where it's supposed to, and I know to get you all the stuff you're giving me money for! Eagle eyed followers on social media might have noticed yesterday the test I was doing with the fidget spinner, where I learned that all new products are automatically posted, just like my blog posts! YIKES! I'll make an official announcement when everything is up and running (everything? I've got, like, five items!), so until then? If you see something random show up on social media, pay it no mind.
Eaglemoss Starships
Did you see the photo for today's post? That's the first in the series of small Star Trek ship replicas from Eaglemoss. They just recently, from what I can tell, started being available again at a decent price, and I grabbed this one a few days ago from Hometown Comics in Greenfield. I love these, and I need more. They also have the ship dedication plaques, which looked to be around $30-$40 apiece, which is pretty dang good! If you're curious about these, you can read about them at the Eaglemoss site at this link! No, these are not new, but you always want to point out cool things, for those who might never have seen it!
Finger Food Recipe of the Week
Seriously? Sorry, friends. I'm not a food blogger. Go check out Cooking Comically. He's got some good stuff up there.
See you next week!