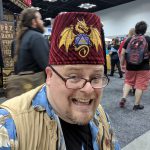 All right, it's 8:08 AM on Friday morning. At around 4:30 PM yesterday, I started to feel dizzy and nauseous, and got home with a splitting headache, so I didn't get anything done for today's blog post that I really wanted to do. So, instead, you're getting a Finger Food Friday! Next week, I'll have the follow-up podcast for Gen Con 50, as well as my Geek Thoughts for both it, and the Indiana Toy and Comic Expo.
This Weekend
As you know from the earlier blog posts, this weekend is chock full of things to do. However, as my Saturday plans got cancelled, instead of sliding over to another event that I wasn't able to go to, instead I'm going to do something smart, and start working on the backlog of projects. First up is the kitchen table takeover with a 3D Printer (graciously loaned to me by Mike), and a sewing machine (old one from my parents). I'm doing a run with the sewing machine this weekend, making some simple dice bags using a pattern I found online, so I can start working up to putting together those puppet pieces I cut out months ago, then put aside because I got worried about messing it up. This is my first step on getting back on track with a lot of my half-finished projects, and will start getting easier as time goes on, because…
Future Projects
This weekend will have the aforementioned work, and Indiana Toy and Comic Expo on Sunday, and the following weekend will involve me flying out to Southern California for my Labor Day Weekend Geekling visit. After that, I will have some clear September weekend days where I can start working on projects. These include, not only work around the Geek Cave, but items like the puppet, the Reliant model, my Fallout Vault Dweller costume, and learning the 3D Printer! In addition, I'm working on getting better on my time management, so I can finally start doing research on the History of Geeking in Indiana book that I talked about a few months ago.
Podcast
Today was supposed to be the next episode of the podcast, but with last night's illness, I couldn't stare at a screen to take care of audio. So, it will be out next Friday. Starting then, I 100% intend to have a new podcast episode out every other Friday, with a focus on local Geeks. Now, I have a list, and if you want to be included, let me know, but I can't promise when I'll get to you. For the near future, I am going to be reaching out to authors, artists, musicians, cosplayers, and generally Geeks who aren't game developers. No offense to our fantastic game developing crew here in Indiana, but dang it, I've done eight episodes so far this year, and seven are about gaming. I love you, but I need a break!
So, with that, I will publish this a bit after 9:00 AM, and I hope you have a fantastic weekend! Look for me at Indiana Toy & Comic on Sunday!
Tony