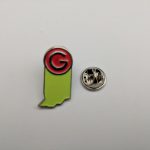 Happy Friday, my friends, followers, and those strange people who hate-read my stuff to vent about it on some secret sub-Reddit somewhere.
Seriously, I kinda hope that exists.
Anyway, while I'm hoping to make these few and far between, life got in the way of what I planned to write about today, which means Finger Food Friday is back. Which is kinda cool, because there are a few things I wanted to throw out there.
The Indiana Geeking Podcast
Last night, I recorded next week's episode of the Indiana Geeking Podcast. This is back on board, and it's going to be posting every other Friday through the remainder of the year. I'm hoping this will give me time to not only do interviews, but also take the time to properly edit them for the best listening experience. I've got a list of people that I'm starting to talk to, including comic creators, artists, costumers, and other notable local Geeks. Of course, this late in the year, this means that I'll only have seven more episodes, but that's double what I had in the first six months, so go me! In addition to getting back on a schedule, I have discovered that Podbean will now post the episodes on my YouTube channel, so if you'd like to subscribe to that as a method of receiving the podcast, you can do that at this link.
2018 Convention Calendar
This will be going up at the beginning of October. If you're a convention organizer, I strongly encourage you to reach out to me using one of the numerous contact options on this webpage. I'm still discovering conventions that are popping up around the state, sometimes just a week or two before they actually occur! So please, keep me in the loop! I fish with a wide net, but I still can't catch everything! Also, if you are already on the 2017 list, could you please update your website with the 2018 dates? That'd be terrific!
Geeking Shop
If you look at the side bar, you might have noticed a single word addition, underneath "Support Geeking in Indiana". That word is "Shop". Clicking that will lead you to the new Geeking in Indiana shop. Currently, I have both of the pins, as well as the fidget spinners, available through here. It may not look like much, but it works (a lot like me!). Sunday, while I'm editing audio, I'll also be working on getting more pictures up, and better descriptors for the items. In the meantime, if you saw my table at Indy PopCon or at Teen Con in New Castle, you know what I've got up there, and keep your eyes open for more!
The Obsessive Viewer Podcast
Tomorrow, I'll be going to see It with the Obsessive Viewer Podcast Facebook group (link). I know you've heard me talk about them before, as I included them in a Media Monday about a year ago (link), and I've been a guest on a few episodes since that time. Tomorrow should be a good time, though, as we've been getting people together using a Facebook Event Page (link) to watch the film, and I'm going to bring my podcast's new recording equipment with me, so we can all record an immediate post-film episode of the Obsessive Viewer podcast! After that is done, I'll be heading back to the Obsessive Viewer Studio to record an episode of their newest podcast, Tower Junkies, which is a podcast devoted to Stephen King's Dark Tower series, and the books surrounding it. I will be occasionally participating as a new reader to the series (I read Gunslinger and Drawing of the Three back in the late 80's/early 90's, but I have slept a lot since then), and we're going to talk about the series from the viewpoint of someone new, who is only familiar with the film adaptation. You can find the Obsessive Viewer Podcast at this link, and you can find Tower Junkies at this link (warning: not edited, so harsh language is used, even by yours truly!).
With that, I'm going to sign off, and I hope you all have a fantastic weekend! I'll see you back here on Monday, with my review of It!
Tony