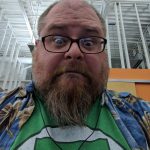 You all know that, starting next weekend, we are hitting the convention season hard, right? Next weekend is InConJunction and Days of the Dead, the following weekend is Indy PopCon, and the following weekend is Teen Con in New Castle. There are a few weeks there where, while I don't have anything happening, we have Ikasucon up in Ft. Wayne, and the Fur Con here in Indianapolis, before we have Gen Con starting August 17th, and Indiana Toy and Comic Expo the following weekend! That is a lot of stuff happening over the course of the next month and a half, and I am not sure if I am either physically or emotionally prepared for any of this! I mean, look at me! I haven't even shaved in a month!
I might have mentioned this before, but remember, I'm starting to freak out a bit. InConJunction last year was the first time I tabled at a convention, and Teen Con was the second. Those were simply information booths, no biggie. I got an inexpensive banner and I ran with it. I decided to get a table at Indy PopCon this year because first, they have given me so much in the way of support and badges over the last few years, I wanted to give a little back, and second, I'm a physical wreck at the end of a convention, so I wanted someplace where I could sit and see my friends. Then it started to balloon out. Now, I'm doing a fundraiser, selling merchandise, got plans for podcast recordings, I have a panel to run, and I don't know if any of this is a good idea. Okay, well to be fair, the Awkward Twitter Mingle has always been a good idea, and a fundraiser for a not-for-profit organization is never a bad thing, but the podcast? When am I going to have time to edit all of that? The merchandise? I'm going to be giving Geeking in Indiana merchandise to family for holiday gifts, because I know I'll be stuck with the lot. And this is if it all shows up on time. So far, I have small stickers. My patches have been delayed, the pins will be in who knows when, and the fidget spinners are due in around July 4th, which is cutting it close. So, even if people wanted to give me money for stuff, I'm not 100% sure I'll have the stuffs there!
That freak-out aside, I'm not too stressed about Teen Con. It's a fairly laid back, no-pressure, one-day show in my home town. Then, after that, I might have the time to edit recordings together for the post-PopCon podcast. However, I'm also going to be rushing to get ready for Gen Con. Lizz and I will be going, we have procured a room at the Fairfield so we're doing a vacation downtown, and we already have tickets for They Might Be Giants, and are getting tickets for The Shake Ups, but otherwise it's going to be a hopefully laid-back first Gen Con for Lizz. HOPEFULLY laid-back, because it's normally extremely crowded, and the 50th anniversary looks to be even more crowded. As neither of us do that great in crowds, this is also providing a bit of anxiety.
However, I guess I also need to be thankful, because even with these worries and stresses, I'm going to be seeing a lot of amazing people, I'm hopefully going to be meeting some new people, and I am just going to be surrounded by good people. I just need to remember to breathe, and if I get stuck with $700 worth of merchandise, I need to reconsider my business strategy.
See you Monday!