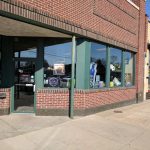 I've said before how much I enjoy the Fountain Square area. From their heavy metal hamburgers, to the Grog House, to duckpin bowling, Fountain Square is full of interesting, unique places. In a previous Friendly Local Shop Friday post, I talked about one of the fantastic comic book shops that Fountain Square plays host to. However, next door is another unique spot that is also pretty cool!
Game Paradise, located conveniently between Hero House Comics and New Day Meadery, is an interesting place. You walk in, and you are greeted with all the normal trappings of a game store, along with Geeky t-shirts, dice bags, and so on. After a moment, though, you realize that the huge selection of games are all open boxes. Game Paradise is a game library, priding itself in having over 1,300 different games, and still growing. They have sections dedicated to different genres, like party games, or role-playing games, or miniature gaming. You walk in, check in with the librarian on duty to get your tab started, and then start gaming! Prices (as of 3/19/2017) sit at $5 an hour, up to a daily max of $12.50, a monthly level of $35 for unlimited play for 30 days ($25 if you go recurring), and a yearly level of $250 for unlimited game play for 365 days. So, not only do they have a fantastic selection of games, but they also have a very reasonable pricing structure that allows you to play them!
The staff was also outstanding. We were greeted as soon as we walked in, and given the rundown on how the business is run and how we can play. We were then left to look around, occasionally being asked if we had any questions or needed any help. After I introduced myself, I was given permission to really dig around, take pictures (not that they wouldn't allow it, necessarily, I just always prefer to ask), and really look around. Everyone there was really cool, and the store just feels really open and welcoming to everybody, up to and including nosy bloggers asking questions and not spending money (I will rectify this, I swear!).
There are a few other little things that are cool about this shop/library. First, not only do they have your standard board, role playing, and tabletop games, but they also have a television and DVD Player for the video-based games like Scene It, as well as a Foosball table. The back door to the shop is a Tardis, because, well, why not? Plus, they have items from local artists and musicans around the shop, from artwork on the walls to CDs at the front of the store. They have a book of places that will deliver food to the store, and you can actually give your order to one of the shop librarians, who will place the order, pay for it when it arrives (with the total added to your tab, of course!), and have it brought to your table so you don't have to interrupt your game by pausing to pick up your order! Sure, they might not have beer on tap, but who really wants their senses dulled when they are getting ready to face a dragon? They really do sound like a place to really dig in and play some games.
So, if this sounds like someplace you'd like to check out, here are the details:
Who are they? Game Paradise
Where are they? 1110 E. Prospect St. Indianapolis, IN 46203
What are they? A Friendly Local Game Library
What is their parking situation? There is street parking along most of Fountain Square, and there is also a lot behind the store (enter through the Tardis!).
When are they open? Tuesday through Sunday, 12:00 PM to 1:00 AM, closed Mondays
What is their phone number, in case I get lost and need directions? 317.972.4263
Just kidding on the phone number. Internet! Where are they online? You can see what's happening on their Facebook page, follow their Twitter Feed, and take a look at the calendar at their website.
This slideshow requires JavaScript.