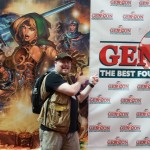 Well, my friends, we are now in the month of August, and you know what that means, right?
Yeah, I mean, sure, the Indiana State Fair is here. Yeah, deep fried everything is kinda nifty, but…
Dang it, it's not just that! It's time for Gen Con, the "Best Four Days in Gaming"! That's right, folks, Gen Con is back in Indianapolis, and it's the fiftieth anniversary! By this point, if you don't already have your tickets, you're kinda up a creek without a paddle, but that doesn't mean you're completely out of luck! While we're celebrating those four days, you are aware there are places here in Indiana that look to make great gaming happen not just those days, but the other 361 days of the year as well, right?
From now, through Gen Con, I'm going to be all about the con, and especially the gaming scene around Indiana. I've got Indiana Geeking podcast episodes coming back with a vengeance, talking to local game makers about their lines, giveaways of locally produced games, and of course, information on what this Geek wants to see, and do, at Gen Con 50. I'm also going to let you all know of an awesome promotion I'm doing with the local car share group, Blue Indy, leading up to the show, and I'm just doing a lot of fun stuff leading up to the con.
During the convention, I'll be trying to throw things up on Instagram and Twitter, and taking pictures to upload to Facebook when I've got good internet. Depending on how the internet service is at our hotel, I might be trying to upload stuff every evening after the show, and I'm going to talk with some friends about doing "recap" episodes of the podcast on some, or all, of the nights, maybe over some drinks.
I'm also working on a Twitter List (Link) of locals who are attending Gen Con, so if you can't go, you can still keep up with the happenings. Plus, you don't have to rely on the Head Geek here to keep you informed on everything that's going on, because you just can't see everything that's going on, even in the span of four days!
Following Gen Con, I'll have podcast episodes up from game makers I interviewed at the con (so far, I'm looking at four for myself, and one for Lizz), plus Lizz's thoughts as a first-time Gen Con attendee. I'm hoping to actually take photos this year of cool things, and Lizz is going to help keep me on task with that, and of course I'll have my follow-up thoughts, as well as information on what I bought and played.
Honestly, last year I slacked off a bit, so I'm making up for it this year, so they don't revoke my ability to get a press badge.
So, we're going to kick off tomorrow with a Local Gaming Spotlight podcast episode! Check back at the blog at 9:00 AM, because it's been taking PodBean a bit to update Apple Podcasts and Google Music when I have taken a decent amount of time off between episodes!
Let's do this, friends!
Tony