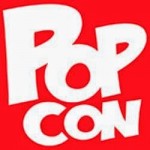 Ever since last year, you've seen me shilling for the Indy Pop Con. This convention was put on by a crew of locals who wanted to see a solid convention for Geeks of all stripes in Indiana. With a "go big or go home" attitude, they brought to the convention center guests like Kristian Nairn (Hodor, "Game of Thrones"), Ron Glass, (Shepard Book, "Firefly"), Sylvester McCoy (Radagast, "The Hobbit") and Joel Hodgson ("Mystery Science Theater 3000"), among others. They had local artists along with some of the bigger names out there, both in art and animation. Heck, they even had both a '66 Batmobile, and a Tumbler! There were panels, 24 hour gaming, costumers, and everything that you could shake a stick at! There was so much promise for a great convention, so how did it hold up?

Overall, I had a blast. As I said before, I was there on a Media Pass, so I didn't have to pay admission fees. This made it a little more enjoyable, as I had that money to spend at vendors. Keep this in mind as you're reading this, though. While I'm 98% certain that my opinion would remain the same if I had bought a standard pass, we just don't know for certain, do we?
Friday
This was actually my busy day at the convention. The day I had to pick up my badge, moderate a panel, attend a few more, and try to say hi to a bunch of artists and friends who had booths. The line was a little slow getting in, and I hear some grumbling a few times, along with questions about why I had to stand in that line to get my press pass. Listen, if I've got a free pass, I'm not going to complain about waiting in the "Will Call" line with everyone else. It moved swift enough, and thanks to an artist friend, who shall remain nameless, I was able to get into the main hall before everyone was even set up.
After heading down to Artist's Alley, and touching base with the crew that I would be moderating, I went exploring the now opened hall. It was at this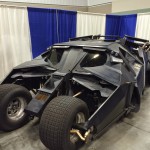 point that I realized I know a LOT of Geeks in the area. I couldn't walk 10 feet without someone saying hi, and sometimes I didn't even know who they were! It was really cool, though, and I was able to make it down to the Fiberglass Freaks '66 Batmobile, and say hi to mark, as well as meet Bob Dullam, builder of a full size, drivable Tumbler replica from scratch. I was actually given an up close tour of this piece of art, with details on the construction, and talking about the RPF thread where people thought he was making it out of cardboard! This was a laugh, as you can certainly tell this baby is not made of cardboard!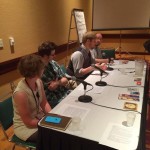 After catching a bit of Crit Confirm's podcast with Hodor, I had to rush off to the Indie Webcomics Panel, which you've seen me shilling over and over leading up to the convention. I believe it was a good panel, and it could have stood to lasted a wee bit longer, but I believe the audience was good, and I think the Indy Webcomics crew was happy with the presentation. I know we didn't touch many of the really meaty questions that were put forth, and I'm hoping they have a chance to answer some of them either on their Tumblr, or if they can actually get back together, and do a YouTube series or something. They were a great group to work with, though, and I hope that I get to work with them in the future in some capacity.
After the panel was over, I went back to talking with folks, and looked around the floor a bit. I discovered a new toy store that I need to visit, was gifted a copy of the ConQuest Convention Adventure Journal, which I'll be writing up about shortly, before hitting a Roller Derby panel, and the Awkward Twitter Mingle, which was delightfully awkward, and enabled me to meet many, many cool people. There are pictures floating around of that event, but as I did not take them, I do not wish to infringe on someone else. When all was done, instead of panels, I played a bit of bit Crawl Pocket before limping back to my car, going home, and falling to sleep.
Saturday
This was the big day, and I admit I showed up a bit late. Walking in, I saw a goodly amount of costumers dressed as Democrats. No, wait… that was the State Democratic Convention in the same building. In all seriousness, I followed an excellent Colonial Marine to the convention hall, and finally was able to go in and start poking around the hall. I spent a better part of the day talking to dealers, game designers, artists, friends, podcasters, bloggers… all sorts of awesome people. I picked up a few awesome pieces, was presented a few more awesome pieces for review on the blog, and generally had my arms full of awesomeness by the time the Cosplay Gesture Jam rolled around.
This was something that was very cool. What would happen is, you would put a group of cosplayers in front of a group of artists. They would then get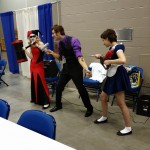 posed by the MC and her helpers, and they would hold the pose for up to 1, 2, or 5 minutes while the artists sketched them. Then, the cosplayers would choose which artwork they preferred, and we would have a winner! I had a blast helping the Indy Webcomics Group with this event, running the stopwatch and just generally being loud and annoying as folks were sketching, before gathering the completed pieces of art and helping start the next round. The images these people could sketch out in under five minutes far eclipsed anything I could do in twice that amount of time.
Saturday was a very full day, but it was full with more General Geekery than any specific panels, or anything like that. However, while I had fun, what do I think of the con as a whole?
The Good
I have heard it said many times, and I have to agree: This did not feel like a first year convention. While it did have some hiccups, overall everything was smooth, the general layout had a good flow to it, and most of the people seemed to be having a good time. If I had purchased general admission tickets, I would have felt like I had gotten my money's worth, and left very satisfied. However, no matter how much I love these guys, and I loved this show…
The Bad
Every show has some issues, and it's going to be interesting to see how they work out. My first issue was with the specifics of the layout. One end was Artists Alley, however, many of the "big name" artists weren't anywhere close to the alley. While I found Dave Dorman over there with many of my friends, not once did I find Larry Hama, who I REALLY wanted a GI Joe sketch from. Also, the Respawn Point was in a completely separate section from the rest of the hall, which was rather awkward and made it feel as if they were two completely separate areas.
There was also the issue of the crowds, or lack thereof. This was not for any lack of advertising on their part. I really believe that a previous convention, which garnered a lot of bad word of mouth due to filling to capacity rapidly, and getting closed off to paying customers, put a bad taste in a lot of local's mouths. Add to that the State Democratic Convention, High School graduations, and a host of other events, and the Convention Center was crowded in ways the con wasn't, sometimes making it very difficult to move around the halls to get to Pop Con.
Overall
Indy Pop Con was a fantastic time. I ran into so many awesome people, be it folks running the show, friends, folks who knew me from the blog, and even just plain new people. I found a lot of cool stuff, found some new stores to check out and write about, got some interesting items to review, and generally had a fantastic time. Even the "bad" things didn't ruin the show for me, and it has me very excited to see what they have for us in 2015.
To the crew of Indy Pop Con, I raise my glass to you. Good job on your first show, and thanks for letting me attend. I hope to see you all next year!
Tony