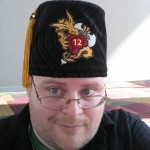 I have been attempting to work on this initial follow-up post all week, even going so far as having it scheduled to publish on the 22nd at 8AM. Sadly, due to, well, real life, I haven't been able to get it up until today. Plus, there has been a lot to process about Gen Con this year. As it was bookended with my move into the Geek Cave ver. 3.0, I ended up walking close to 30 miles around downtown Indianapolis and my apartments, because I had so much going on, and so much to do! Strangely, through all of this, I didn't play many games! However, do not think I had a horrible Gen Con! Here's a run down of my weekend:
Wednesday
After getting a good portion of my stuff into my new apartment, I went down to my FLGS, Hero's Emporium, to check out the Kickstarter kick-off for LM Studio's game, "Super Turbo bit Crawl FX: Alpha Xtreme". This game, which harkens back to the old 16-bit dungeon crawlers of our youth, is a locally designed game that I've had a chance to play and watch evolve since Indy Pop Con, plus I've gotten to know the guys behind it pretty well, and they're pretty dang awesome. Keep an eye open for a write up on this in the next few weeks, but know that you should throw your money at them NOW! In fact, this game is already funded, and we're pushing for the awesome Push Goals that are tried, tested, and will bring a lot to the game! So, I spent most of the evening playing, and talking with my friends from the shop, Awkward Geeks, and Crit Confirm, then I headed to bed after a long day.
Thursday
Day One of the Best Four Days in Gaming! I got there about 9:15 AM, and had a nice wait to pick up my press badge. I did hear some grumbling about the line, but A) It was still a shorter line than Will Call, and B) It was for a complimentary badge! I am not complaining about that wait! Plus, it gave me an opportunity to talk to some fellow, more "professional" bloggers and podcasters in the line, and see a few friends walk by. After I received my badge, I made a beeline for the show floor and to the Fez-O-Rama booth where I was finally able to pick up a fez that I have long coveted, in general, and the specific fez I have coveted since he debuted the design and announced it was a limited run. You will see me with this fez at many events around Indianapolis moving forward, as it is now going to be part of the Indiana Geeking "brand". Anyway, after grabbing the fez I had so desired, and a set of Campaign Coins, I dropped by a few booths to say hi to friends, and then I girded my loins to start doing something new and, in all honesty, a bit intimidating to me.
I had interviews to do.
More in-depth information will be coming over the next week on these, but over the course of the weekend, I got audio recordings from game designers, creators, and a panel. If this audio is sharp enough, then I'm also going to look into Soundcloud as a temporary solution, and if you folks like what I've done, I might look into starting an audio podcast. Either way, huge thanks and shout-out to Mike Wickliff, who has always been one of my biggest supporters, as well as becoming a good friend over the course of the past year. He heard that I had interviews set up, and he loaned me his recorder that he normally uses when he's doing interviews for podcasts. However, I do believe he has something up his sleeve…
Day One wrapped up with me picking up a book from Hans Cummings, a local author, and then playing games with the likes of Bryan Spellman, T.J. Zmina, Sarah Zmina, Johnathan Grant, and Jason (curse my memory for forgetting a last name, but he's a cool Twitter follower of mine known as @jpthompsLP). I gathered my thoughts, checked my social media, and watched them throw down on a game of  "Red" which looked to be a lot of fun. Then, I gathered myself, and trekked back to my car to go home, rest, and get ready for the next day.
Friday
Day Two started with something else I'm getting used to doing: Moderating a panel for people of talent. In this case, it was my friends from the Indy Webcomics Group. I moderated their Creating Comics panel, which was held by Chris and Ginger Ludden of The Brothers Grant, and Lee Cherolis of Little Guardians. It was a small panel, but it still got me awake for the day, where I had another interview to conduct, and I had a chance to wander the floor a bit more, checking out some of the cool stuff. However, after the interview, I didn't stick around long, as I went to lunch with some friends, and then after lunch ran across some MORE friends heading to lunch, so I turned around and went back for another drink. By the time my conversing with awesome people was over, the exhibition hall was closed, and it was time to attend the Indy Webcomics meet up, so I had the chance to grab drinks and shoot the bull with even more awesome people before heading home, cleaning out my bag, loading up the vest, and heading to bed.
Saturday
Day Three was the day where I was taking it easy. I had the possibility of one interview, so I had the recorder in my vest pocket, but otherwise I just wanted to check out the cool costumers/cosplayers, wander the hall, and perhaps play some games. I ended up talking with friends in Artist Alley and Author's Avenue, before meeting up with my brother and nephew, who was on the hunt for Pokemon cards. After walking with them for a while, and grabbing lunch, I had a chance to sit with the organizer of Awesome Con, which is coming to Indy the first weekend of October, and you can look forward to some information on their show in a few weeks. After that, it was just wandering, talking with friends, taking pictures of costumers, then grabbing dinner with friends, catching a show, and then games until midnight when I finally hit the wall.
Now What?
Well, I've spent the last week settling into the new Geek Cave and catching up at work. I should be good, after tomorrow's Tuesday Tidbits, to start putting some of my articles and interviews up for follow-up. I've also got some tips I want to throw out for next year, which I'll also put up at the end of the run. However, it's not just going to be a few articles. I've also got some books to read and review, products to check out and write up, as well as my experiences getting back into D&D with Fifth Edition, which was released this last week.
Needless to say, after a week's vacation, the Geek is back. Let's expand my horizons, and see what I can do with this beast!
Tony