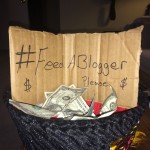 Over the past few months, I've learned something interesting. It's really hard to do a face-to-face recording with more than two people, when you have a recorder that only supports two external microphones. In addition, it's difficult to get good audio quality when those external microphones are recording on the left channel and the right channel, respectively. I mean, I can do an interview with a few people, but then the folks I'm speaking with need to pass a microphone around, and that's just no good. So, I'm looking at a few different options, and if you have the opportunity, I'd like your help.
First, I'm looking at the following equipment, which is not including cables or stands:
Behringer Dynamic Microphone 3 Pack (currently $39.99) – Listen, I have two Audio-Technica microphones right now, and they work well. This will enable me to have one extra (in case some wise acre decides to "drop the mic" during an interview), since most of the recording equipment I'm looking at handles four microphones. Plus, hey, four and a half stars with over seven hundred reviews on Amazon? They can't be all bad.
Behringer Q1202USB 12-Channel Mixer (Currently $95.00) – This is the more inexpensive option, though it's not very practical to carry with me to a game store, a pub, or someone's house to record with them and their band mates. However, it can support up to four microphones, and it can plug directly into the computer, so I don't have to worry about running out of memory on an SD Card. Again, it's got four stars with a hair over forty reviews, but for the price? I think it's worth it.
Zoom H6 Six-Track Portable Recorder (Currently $349.99) – This is the holy grail. It's portable, has four microphone inputs, has twenty hours of power off four AA batteries, and it comes very highly recommended from local podcasters. Yet, it's three hundred and fifty dollars. At the rate I'm going, I'll be able to afford this recorder sometime around 2023. This is why I'm writing today.
Part of why I haven't done many podcasts this year is because I'm wanting to talk with groups of people, and I just am not set up to do it in a way I'm comfortable with. I know many people say, "Just use what you've got, and make the best of it," but I'm having a hard time asking three to five people to share one microphone, or putting a Blue Snowball in the middle of the room and then trying to get rid of echo in Audacity. So, this is where I'm asking for help.
First off, no, I'm not expecting anyone to just buy me one of these dang items! That, frankly, is insane. No, I'm wanting you all to try to use the "Support Geeking in Indiana" page just a bit more. How can you do that? Well…
I love doing this blog, and I love creating content for everyone that they hopefully enjoy. I also greatly appreciate everyone that's helped me out.
Tony