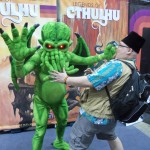 Happy Friday, my friends! It has been a very busy 2016 thus far, and I admit that I'm taking full advantage of my decision not to do a new post every day, and it's been helping my ulcer tremendously. However, I am still here, and I am thinking about content to fill your screens, and that empty hole in your hearts and souls caused by my absence. This week, I got thinking about the 2016 convention season. I know I touched on it a little bit last week, but I felt it needed to be expanded upon, as I have a lot of friends that have started to see me as a fixture at many of the conventions. I thought I'd list some of the shows that are happening this year, that I'm planning on attending, and letting you know what I think of them.
Of course, the easiest way to go through this is by going through my handy list of 2016 Hoosier Conventions, which is conveniently located either at that link, or as a page over there on the right side. See it? No, it's right there. There, on the right. Yeah, that's it! That list is endeavoring to list all the conventions and shows in Indiana, from the "Best Four Days in Gaming" to one day shows held at libraries. I just want everyone to know what's going on in this state for Geeks who are looking for cool things to do. While that list is attempting to be all-encompassing, my personal schedule is not going to be as ambitious.
My first show of the year is not going to be until April, as of right now. On April 1st, we have Who's Yer Con, which rolls into the next INDYpendent Self-Publisher Show on April 3rd. These are both great, locally-ran shows, the first of which is a gaming convention, and the latter being a great resource for folks who are looking to create their own work, like a book, a comic, or even a podcast. I'm planning on gaming after work on Friday, and then heading back to Saturday, with some X-Wing minis, as well as some Armada. Sunday, I'm planning on reconnecting with all of the awesome local creators I haven't had a chance to see since last summer, as I have become a recluse over the winter, and I'm not planning on going out any time soon. Well, you know, with the exception of work, school, and the like.
The following week is LaffyCon, up in Lafayette. I'm hoping to drop by there for a day, so I can check out their show, as well as visit some friends who live up there. This all depends on how I'm feeling after two shows the weekend before. LaffyCon is a newer show, running April 9th and 10th. If I'm able to head up, it'll be Saturday the 9th, and I am hoping to head on up and see what they have to offer.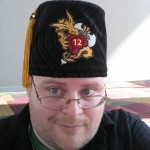 The remainder of April, and the month of May, are both going to be relaxing for me, and hopefully will allow me some time to visit some Geeky shops around the state and expand my coverage in that aspect. However, then comes June, with two big shows happening the same flippin' weekend! First, we have Indy Pop Con on June 17th through the 19th. This is a locally-run show, held at the Indiana Convention Center in downtown Indianapolis, and it's in its third year. The first two years have been a great time, and I see no reason for it to change now! However, the other show we have going on is from the 16th through the 19th, and it's called DroidCon 4. I don't know much about this show, other than it's a Droid Builder's convention. When I say "Droid Builder", I mean Star Wars droids. More information will be coming, but it's being held at the Holiday Inn at the Indianapolis Airport. I'm hoping to drop by at least one day, to check stuff out, and perhaps start getting some info and contacts to build my own R5-D4.
In July, I'm hoping to hit two shows. The first is one of, if not the longest running conventions, put on by fans, in Indiana. It's InConJunction, and it's held at the Marriott East in Indianapolis from July 1st through 3rd. This is a full on science-fiction and fantasy convention, with guests who are authors, artists, personalities, and costumers. Plus, for the twenty-one and older crowd, they have some fantastic gatherings in the evening, if you're staying at the con hotel. The other show in July is happening over in New Castle, and it's the second TeenCon! You'll be seeing more from me on this as the date gets closer, but it's held in the afternoon on a Saturday, and it's a great event for Geeks in my home town of New Castle. I can guarantee that I will be in attendance for this show, as I'll be one of the cosplay contest judges, as well as a guest blogger.
August brings to us the "Best Four Days in Gaming" that is Gen Con, from August 4th through the 7th. Expanding into Lucas Oil Stadium this year, they are expecting another record-breaking year, and are limiting their press badges. While I'm still planning on applying for a badge, I'm not 100% certain I'll be receiving one, so for the first year since 2012, my attendance will be uncertain. However, on August 28th, the Indiana Toy and Comic Expo will be returning to Bloomington for their one day shindig, and you can bet your sweet bippy I'm not going to miss this year, like I missed their 2015 show. I will be on the hunt for spaceship models, as well as desk toys.
Sometime in October will more than likely be the next KokomoCon, which I'm looking forward to. This is a fun one-day show up in Kokomo, and I'm hoping to troop with the Rebel Legion and 501st again. Then, in November, is the next Starbase Indy. Rumor has it that their show this year is wanting to back to their Star Trek roots, to celebrate the 50th Anniversary of the original Star Trek series. This show is on Thanksgiving Weekend, November 25th through the 27th, and I will be there, come hell or high water. I'm also going to see what I can do to volunteer and help out with the show, because in all honesty, this is my home convention, and I haven't been to one in years, and I really want to dive back in head first!
There are a couple more shows, like Midwest Toy Fest, and the fall offering of the INDYpendent Show, that I'm planning on hitting, as well. However, I'm still keeping my eye open for their dates, to make sure I can fit them on my calendar.
One thing you'll notice is that, with the exception of DroidCon and Gen Con, all of the shows I'm hoping to hit are local, Hoosier-based events. These are just turning out to be more interesting to me than the travelling corporate roadshows that have floated in and out of town over the past few years. I'll list them on the Con listing, because I know a lot of my readers enjoy a con like that, but it's just not my cup of tea.
I have a few months to start getting in walking shape, get my blogger bag back together, and dust off my fez. See you all at a con!
Tony