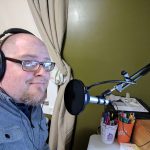 So, it's Tuesday night, and I'm sitting here hoping that a new-to-me website I'm going to use for podcast recording is going to work. This means I'm having a heck of a time focusing on much of anything, including a steady topic for a blog post. So, instead, here are some fragments of thoughts. Droppings from the Geek Mind, if you will, as I prep for the return of the podcast.
First things first? Mass Effect Andromeda. Yes, I have this pre-ordered through Amazon, but no, I won't be taking time off work to play it. This means I'll be playing during my off hours (I have off hours? When?) and I'll probably have an audience of Lizz and a 13 year old. So, needless to say, I'm curious about the rumors I'm hearing about some of the "romancing" options the game will have. Will this game actually have some "softcore space porn" (links to quote on Twitter, not actual softcore space porn) that we don't want the teen looking over the shoulder as it's played? I guess I'll find out whether or not Bioware is trolling their hardcore alien lover fans when the game is released.
What else? Let's see, have you heard of Zencastr? It allows you to record podcasts over the internet, without using Skype, having people record their own audio, trying to record online, or anything like that. I've ran some tests with it, and that's why I'm using it to record tonight. So far, I've paid $20 (thanks, Amazon customers, Patrons, and people who donate!) for the full version (free allows two people, full allows unlimited) and spent the time to get everything set up, so we shall wait. After everything is done, I'll come in and tell you all what I think.
There is a small possibility that I will be hitting the JoCo Cruise in 2018. If this is the case, I need to come up with some money, fast. First off, NO, I will NOT be pulling from the coffers of the blog! However, this does mean I will be limiting the amount of personal funds that I toss in to the blog. So, once again, thank you to everyone that donates, that supports me via Patreon, and who uses the Amazon link at the top of the blog. You're the reason I can try stuff like Zencastr!
Another thing I've done is create my first YouTube video, for my Patrons! For my $5+ level supporters, I'll do a Q&A where they ask me a question, and I'll respond. I sent the video to some friends who do that sort of thing, and I've gotten some outstanding feedback on how to move forward with it. Moving forward, these videos aren't going to be solely for my Patreon supporters, but they will be the only ones who can ask me a question. So, if you want to get in on the action, head on over to Patreon, hit the $5+ level, and you'll be in the pool! I'll be adjusting everything, and setting new levels this weekend!
Finally, it's now Wednesday morning, and I've had a chance to try Zencastr. First off, everyone was able to get on board without a hitch. I had myself and two guests, for reference. We all recorded, and then the audio immediately downloaded to my Dropbox, which is attached. I was also able to download the three separate audio tracks, without issue. One thing I did NOT take advantage of was the options for a "sound board". It came pre-loaded with a rim shot, as well as an organ playing baseball music, but as I'm not a morning drive-time radio show, we decided not to use it. Anyway, after everything was downloaded, I decided to try their post-production service, and started it running before I crashed. When I woke up this morning, I had an email (which I can actually reply to if I have any issues!) stating that the recording is ready in my Dropbox! I listened to some of it, and everything sounds better than anything I can do on Audacity! The levels are even, the sound is clean, and I'm just happy with my initial review of it. I'll have a full post about what I learn next week, but for now? A+, will continue subscribing (unless the audio goes to pieces in the middle!).
Tomorrow will be the next episode of the Indiana Geeking Podcast, and Friday will be a FLS Friday post, probably about another game shop that I haven't really visited since they first opened, because my plans over the weekend to visit some new places fell through, and they're close!
I'll see you all tomorrow!
Tony