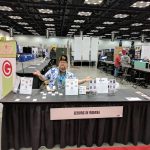 Every now and then, I think about the things I have learned about preparing for a convention. A few years ago, I wrote a pair of articles for the blog, talking about convention tips and tricks. You can find those articles at this link for part one, and this link for part two. Well, since those were written back in 2015, I've learned a bit since then. So, in addition to those articles, I'd like to throw in some information on what I've picked up having tabled for the first time.
Tabling at a Show
First and foremost, this is from the vantage point of a blogger. I know it's a different experience for artists and craftspeople, or standard vendors who have to pack in a lot of merchandise, pay higher table fees, and have booths where people actually will walk inside (on occasion). This is based off of four conventions in the last year (InConJunction 2016, TeenCon16, Indy PopCon 2017, and TeenCon17) where I have slowly started growing from "Hey, here I am. Wanna read my blog?" to "Hey! I have a blog! I sometimes podcast! Wanna buy a fidget spinner with my logo on it?", so I'm not some wise, old sage or anything, but I'm slowly getting the hang of it.
Next, it's your table. You know how you want to set it up. You know you want a sign. You know what you're going to do there, so you don't need my help. If you do need advice, let me know and I'll tell you what I know. Instead, I want to tell you the stuff I never thought to ask, or the stuff I wasn't told.
First, and foremost, when you're at a convention table, you're (for all intents and purposes) on-stage. You are going to be "on" all day, engaging folks dropping by your table, saying hi to friends, This can prove to be even more exhausting than walking around the convention floor, especially if you don't have the opportunity to spend much time away from the table. If you're more of an introvert, you're going to want to steel yourself for this, perhaps for a week, then have at least a couple of days afterwards to recuperate. Myself, after Indy PopCon, I was off my game until Thursday, and I had to be at work that whole time! This was after being "Indiana Geeking" all day Friday, Saturday, and most of Sunday. It's really more tiring than I ever realized.
Second, while you're on, you're going to talk. In fact, you're going to talk a lot. Not only are you going to talk, you're going to have to be heard. You need to talk over everyone talking around you. You need to be heard over the jackwagon walking around with bagpipes on the con floor. You need to be heard over the folks doing professional YoYo tricks on the nearby stage. With all of this, your throat is going to be torn up. So, what do you want to have ready? Well, I know there are fancy sprays that theater folk use, but what was tossed to me by Mike Ficarra of Mike Makes Stuff was a handful of cough drops! Those little beauties helped me out so much during the last day of the show, I'm going to remember to throw them into my kit, moving forward!
Finally, while many shows will provide chairs, I can now say that, beyond a shadow of a doubt, that the chairs at the Indiana Convention Center are a pain in the arse! Despite not wanting to kill my feet by standing (mental note: bring foam floor mats), I found myself standing more than sitting, due to how uncomfortable the chairs are. So, something else I'm going to remember and recommend is either a foam pad for your tuchus, or a comfortable camping chair.
So, I guess the biggest question is, which do I prefer to do? Do I prefer to hit a con as an attendee, or as a vendor? Unfortunately, I still don't have a clear answer. I missed being able to walk around, visit my friends, and check out the booths. However, I loved not dying on my feet, having my friends able to find me easily, and not carrying around blogging equipment all weekend. Also, when I'm on the floor, I can step off for a bit, find someplace to hide, take care of notes, and recharge myself before stepping back into the fray, and when I am at a table, I do not have that luxury. So, while I am completely going to be tabling at more shows next year, it's going to be a test to see which I actually do prefer.
"But Tony," you may ask. "How can I find these shows to attend, or table at?" Well, dear reader, there are multiple ways you can do it!
Geeking in Indiana Convention Listings – I try to go through, and find every convention happening in the state of Indiana. Almost all of these will have a website for the con, where you can get more information.
Local convention center calendars – I have the calendar for the Indiana Convention Center (Link) bookmarked in my browser, and now that I think about it, I need to start finding other Hoosier ones as well. Look up your local calendar, and if an event looks interesting, Google the show and find more information!
Host your own event – Go all out! Sure, event planning takes a lot of work, but there are websites like Eventbrite and their Conference Planner (Link) that makes the whole "Promote and ticket" part easier. This is especially great for events like the upcoming Shocktober in Irvington, held by Obsessive Viewer, which goes through the site!
Have a great weekend, friends! I'll see you next week, as we start ramping up for the Best Four Days in Gaming!
Tony