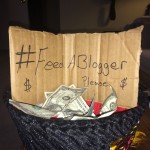 I know, half the time, what you see is a stream of bloggers, cosplayers, YouTubers, and content creators begging for money. I know you're inundated with this sort of thing, even from me, so I wanted to sit down, and let you know what the average operating costs are looking like for Geeking in Indiana/Indiana Geeking for 2017, and how you can help, if you so desire. This is something I hoping to do rarely in 2017, because I'd rather tell you all about cool stuff than tell you about how I'm financially struggling to keep things running. However, since I'm looking to do a bit extra both here and behind the scenes, I wanted to let you all know what's going on, and why I am doing what I am doing.
First, let us take a look at the basic costs, currently, for the blog:
Podbean Fees are $10 a month. This is the hosting service of the Indiana Geeking Podcast. If I don't give them money, the podcast goes away. Over the course of 2017, this will cost me $120.
Dropbox Fees are $9.99 a month. Dropbox enables me to upload photos from my cell phone, save documents on my work PC, pull them up on my home PC or tablet, and share files with Team Geeking members, as well as save backup information for the website. Over the course of 2017, these fees will cost me $119.88.
Domain name fees through 1&1 for both GeekingInIndiana and IndianaGeeking are $14.99 each, due in June and August. respectively. This is a relatively low fee, when compared to the total of the other two, but it is extra money I need to tuck away, come June and August, for a total of $29.98 for the year.
Adobe software is going to be a new one, and I'm hoping to start the subscription before my college email address goes kaput. This is $19.99 a month, and it's going to include Photoshop (to improve the images shown on the site) and Premier (for the YouTube channel). Over the course of 2017, that's $239.88
TOTAL: Over the course of 2017, just for these fees, that is $509.74, or $42.48 a month.
Now, this isn't counting equipment costs, convention table fees, a PO Box, convention parking fees, gas costs to visit shops to review for FLS Friday, or any of the other things I need to do everything I'd like to do on the blog, to help make it a great resource for everyone else.
Now, in contrast, let's look at what I bring in:
Amazon Affiliate Monies have been scarce, recently. Over the course of 2016, I have earned $79.91 through Amazon (not counting the $86.64 that went towards the Geek Cat's bills last spring), which is very slowly trickling in.
Google Adsense is a joke, at this point. There is a $100 cash out threshold for the service, and I haven't reached it since I started the blog, and my Adsense account, in 2010.
Other than that, I really haven't received any donations, equipment gifts, or anything of the sort over the past year (except for Geek Cat donations), which is 100% okay, but I'm mentioning in full disclosure..
So, in order to stay afloat, I'm going to start looking into fleshing out the "Support Geeking in Indiana" page. While it's not as high a priority as, say, updating #FLSFriday pages, I'm still going to go through update my "Affiliate" pages with current links, as well as doing the following tasks:
Rebooting the Geeking Patreon page – If I can get enough Patrons to cover at least the podcast hosting fees, I'll be happy. Get more than that? I'll be able to get a jump on the rest of my plans.
Adding more "Affiliate Link" posts – Hey, I'm sorry, but this is expensive! For what it's worth, I'll make sure it's not just a sloppy, rushed piece! If I put it up there, it's because I like it, find it interesting and cool, and think you would too!
Sponsorship on the podcast – Once I have it out regularly again, I'll be looking for local sponsors for the Indiana Geeking podcast. No, not frakkin' Audible. They sponsor everyone else, but don't care about me.
Local advertising – Yes, I know some people say they it will cause them to doubt the sincerity of my #FLSFriday posts, but sincerity doesn't pay the bills.
PayPal Donate Button – I'm not removing it, but I'm not pushing it, either.
Merchandise – This is still in the planning stages, but it is a very distinct possibility.
Listen, as I said, you're probably as tired of hearing me talking about blog finances, as I am writing about them. However, it's a fact that a labor of love goes only so far. After a while, I start to think, "That's $500 I could have put into savings." Or into the Geekling's college fund. Or into medical debt. Or into any number of things that are a lot more responsible than blogging/podcasting/what have you. I'm not saying Geeking in Indiana is going to go anywhere any time soon, but if things don't start to look up over this year, it's going to fade into the background sooner rather than later.
Please, help me keep that from happening.
Tony