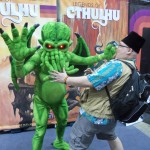 Last weekend was Gen Con 2015. Normally, after every Gen Con, I do a post with the stuff I did, and saw, and talk about my opinions of the show. Now, when you get right down to it, I know most of my normal readers have opinions about Gen Con, and with the exception of a few panels, they are mostly positive opinions about Gen Con. It's listed as "The Best Four Days in Gaming" for a reason, after all, with non-stop opportunities to check out new games, play old favorites, and sling cards with about 61,000 of your closest friends. This is a convention that brings a lot to Indianapolis, not just in terms of bodies filling hotel rooms and restaurants, but also in terms of charity. Some of the numbers that have been release by Gen Con include:
Unique attendance of 61,423 (up from 56,614 in 2014, and 49,530 in 2013*)
Turnstile attendance of 197,695 (up from 184,699 in 2014)
Raised over $38,500 for their 2015 charity, The Julian Center.
More information will be coming from Gen Con in the coming weeks, but this is still pretty impressive, and shows the amount of people (and dollars) their show brings to the Crossroads of America. Now, what did it bring to Geeking in Indiana? Well…
Wednesday evening, I went downtown for the Sun King tapping of Drink Long and Prosper, this year's Gen Con beer. I traveled with my friends from Hero's Emporium, who also picked up their passes (I couldn't get mine until Thursday). We had a less-than-stellar experience at The Claddagh downtown** before wandering in to the convention center to check out the layout of the con. Early Thursday, I was up and at the center by 8AM to get my press badge. I hung out with friends until the floor opened, and I started making the rounds of interviewing game developers, accessory developers, and toy makers that I had set up, and this kept me busy until the floor closed and I caught the El33ts, a local acapella group that sings, of all things, video game themes. Friday allowed me some time to check out Star Wars: Armada, which seems a heck of a lot more complicated than Star Wars: X-Wing, before I wandered the floor a bit with Sean of Black Hat/White Rabbit studios, and then catching Concert Against Humanity with Bri. Saturday was more interviews, followed by a show by the Shake Ups in Ponyville, followed by dinner with friends, and Sunday was a panel, followed by even more interviews. Photos from everything have been uploaded to the Geeking in Indiana Facebook page, if you'd care to take a look!
In case you can't tell, I did a lot of interviewing at the convention. I really don't want to say what, or who, even though if you followed my Twitter feed over the weekend, you probably have a really good idea who all I talked to. However, suffice to say, I have enough audio and information for not only tomorrow's podcast, but also the next two Media Mondays, to include special podcasts. However, I didn't get as many photos as I'd like, and my attempts at video were instantly deleted, marked off as sub-par at best, showing that I still have a way to go before I have a multi-media empire set up.
Besides, I don't want to carry around all that gear!
I had a great time at the show, always relishing the opportunity to spend time with friends, meet folks that I normally only see on Twitter, and just generally Geek out. This year, however, I also threw myself into the blog work just a bit too much. Don't get me wrong, if I can piece everything together, I'm hoping to have some awesome stuff for you all over the course of the next few weeks. The thing is, I am worn out, burned out, and not wanting to even look at another convention for a long time, and that's not cool. Next year, I need to find a happy medium that allows me to fulfill what I believe are my duties as a member of the press, and still be able to take care of myself and enjoy some games.
I am greatly looking forward to the 2016 Gen Con, and I'm always thrilled to be told by them that I qualify for a press badge. Thanks for the great times, Gen Con, and Indy is looking forward to your return!
Tony
* Yes, I save all of my Gen Con emails. This is how I got the past years numbers. #EmailHoarder
** While I understand that a business can get busy during a huge convention, it does not excuse a table being ignored. For more details, see if you can figure out which is my Yelp review.