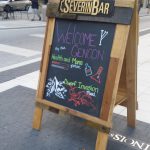 Yes, my friends. Another year of Gen Con has come and gone. The Best Four Days in Gaming has, once again, lived up to its name, letting all of us who attended see friends, play good games, meet developers, and have a great time. Personally, I saw many good friends, kept running into the poor LARPs: The Series folks, talked to some local game makers and Geek-types for future possible podcasts and blog posts, looked at some games, and just generally took it easy, as compared to the last few years where I spent the con chasing down interviews. However, this doesn't mean I really took it easy at Gen Con this year.
Attendance and Impact
Gen Con has traditionally been one of, if not the, biggest conventions in town, with an estimated impact of $71 million annually (Visit Indy, 2016). On Tuesday, Gen Con released their post-convention report with the following numbers:
Unique attendance of 60,819 (down from 61,423 in 2015, but up from 56,614 in 2014)
Turnstile attendance of 201,852 (up from 197,695 in 2015, and 184,699 in 2014)
More than $35,000 raised for the 2016 Gen Con charity, The PourHouse.
The inclusion of the conference space under Lucas Oil Stadium this year helped spread out a lot of the convention, which made days like Saturday, despite having record turnstile attendance, not feel as crowded and crammed as previous years. However, the booth placement felt a little rushed/last minute. On Thursday, I spent part of the day hanging out with John Graham of FIGID Press, and we were trying to find Katy Silver and Zombie Daisuke, who were part of the Anime section, and we were told "Under South St." Well, they were quite literally in the tunnel underneath South St, with a few other vendors and cosplay booths. I hope that, in 2017, Gen Con will have a better plan for that area. Although, I did hear they did okay down there, so what do I know?
The Games
Of course, Gen Con is about the games. While I didn't have a chance to really play anything new, I did see some things that I'm putting on my Wish List over at my Friendly Local Game Shop, Hero's Emporium. Some of those games include (mostly affiliate links, but support your FLGS, if possible!):
This isn't including the X-Wing Miniature ships, or the Star Wars Armada expansions that I'm kinda drooling over at the moment. Look for an update to my thoughts on that game, as well as notes on some new sleeves I received from BCW Supplies for them, in the next week or so. I also picked up a couple of games from local game company, Dodeca System Games, which I'm going to try to get some play time in with over the next few weeks, and do a follow-up in a few weeks.
The Events
Despite purchasing a few generic event tickets, I didn't do much in the way of events this year. However, the two I did hit were very cool. One was a Gen Con event, while the other was an off-site event done in conjunction with Gen Con. Both were very awesome, and if you have the chance to attend them during future Gen Cons, I strongly recommend it!
First, on Thursday evening, I attended a performance by the local a capella group, The El33ts. The El33ts are a group that sings music from video games, and this year they expanded a bit into the classic rock genre. They are talented individuals, and their shows involve audience participation, a trivia contest, and are just loads of fun! You can find information on them at their Facebook page, which is linked at the beginning of this paragraph, and take a look the next time they are in town!
Next, on Friday evening, I hit the League of Xtraordinary Programmers event, held by TechPoint at the Crane Bay Event Center. You might remember the promotion I was doing for it in the lead-up to Gen Con, and it was a fantastic event! The food was fantastic (hey, all I'd eaten that day was beef jerky!), I saw a good group of friends, and Lizz and I had some good conversations with many of the tech groups who had tables there. In addition, Lizz won a four day pass to Gen Con 50 in 2017, and the smile didn't leave her face the rest of the night! All in all, it was a fantastic night, and I'm hoping I can help out with their 2017 event!
The Costumes
Gen Con is a great opportunity for people to break out their costumes. From simple, comfortable hall cosplay to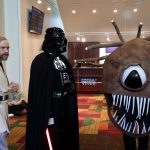 elaborate suits of armor made of metal and foam, attendees really bring the awesome out during this show. Other than the cool shot of Jim the Jedi, Vader, and a Beholder, I didn't get many pictures of costumers this year. One major part of this is how awkward it is. If I saw a fantastic costume in the vendor hall, I wouldn't block up the aisles to get a picture. I'd just tell the wearer how awesome it was when we passed each other, and occasionally exchange a high five or a fist bump. Out in the common area, costumers were relegated to taped off areas that were often too crowded to get good shots (at least, with my patience level), or were down in the Lucas Oil section, which I was just too lazy to walk to. Plus, I was with friends playing games when it was time for the costume parade, and the costume contest is never on my radar.
Overall
Gen Con is definitely the Best Four Days in Gaming, and it is certainly a boon to Indianapolis. I'm hoping they stick around for many more years, and I'm hoping I keep getting the opportunity to cover the convention, even when I'm feeling exhausted. I'm really looking forward to Gen Con 50, which will be August 17th through the 20th, 2017! Keep your eyes open over the next few weeks as I get a chance to try out some of the games that piqued my interest over the weekend, and write about them. Any games I'm trying because of the show will go under the "Gen Con" category here on the blog!
So, what did you think? Did Gen Con meet your expectations? Did you have a good time? What did I miss? Give me a shout!
Tony