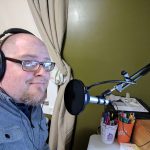 There are times where I think about what a good day in my life would be like. What would I do with a good day, or a good week? Now, this isn't saying my days aren't good. You know what they say, any day you are above ground is a good day, but what would be a good day? Here's how I see it…
I'd wake up in the morning, probably around 7 AM (compared to right now, this is sleeping in!). I'd make some breakfast, grab a shower, you know, the whole morning routine. I'd head up to the Geek Cave office with some coffee around 8, open the windows, and boot up the computer. I'd spend the first thirty minutes catching up on Twitter, before engaging "Work Mode" on the computer and giving the 9AM blog post one more read through and edit. Then, I bump Work Mode off for a moment, verify the post goes live at 9AM and shares on social media, and then I turn it back on and get to work.
Work would consist of any number of blog related activities. It could be catching up on some blog posts. It could be researching conventions. It could be editing audio for the podcast. It could be video editing. It could be stepping away from the computer entirely to visit a shop for FLS Friday. Either way, it'll be a focus on Geeking-related work until it's time to break for lunch at one.
At one, lunch shall fill my stomach, and I'll take a walk around the neighborhood (if the weather's nice), listening to podcasts and stretching my legs. Then, it'll be back inside by two, to continue working on creating. At this time, however, it will be less computer based, and more building based. This would be the time where I'll belly up to the work bench, or the sewing machine, set up a camera, and start working on costume bits. I might throw on some music, depending on what I'm working on. I'm thinking a lot of Star Trek soundtracks, as I'm chomping at the bit to work on some phasers and uniforms! I'll work on this for a few hours, before I go and pick up the teen from school, come home, and we work on dinner. Then, the evening is family time. Something like Netflix, or board games, as we relax and get ready to do this again tomorrow.
This is my idea of a good day. This is the kind of day I would have, if Geeking in Indiana could pay the bills. Sadly, it can not. So, instead, my day consists of getting up at 5:30 AM, driving across Indianapolis to get to work a bit after seven (which allows me to put the finishing touches on blog work from the night before), working from 8AM to 5-6PM, driving back across Indianapolis, shoveling down some dinner, and then working on blog stuff until I pass out at 10PM. The issue is, by this point, I'm mentally exhausted, and easily distracted, so I'm actually trying to think of words, as I look at a ton of websites that aren't WordPress.
Something needs to change. As much as I love everybody, and I love doing this, I can't spend every hour outside of my day job working on this. It's keeping me from things I enjoy and people I love. So, unless I have someone that's willing to toss $1,600 a month into Patreon for me (nope), here's what's going to happen. Starting sometime in the fourth quarter of 2017 (October, November, December), I'm going to start dialing back on the blog posts, to only guarantee posts on Tuesday and Friday, with a Media Monday, or other post, the rest of the week. This means I'm pushing back to three posts. Tuesday will always be Tuesday Tidbits, and Friday will either be the Indiana Geeking Podcast, or a Friendly Local Shop Friday. If Grant is able to do a Media Monday, that'll be the third post, otherwise it'll be information on an upcoming event (Things to Do), or a post about one of the projects I'm going to be freeing myself up the time to work on.
If you've followed me over the course of the blog, you know how much I love building. I have not been able to put any amount of time into it, though, due to my self-imposed task of creating five blog posts a week. So, I'm dialing back, so I can start getting building, and starting the stuff that's not blogging, but blog-related, like the puppet, the book, the YouTube channel, and all that other stuff that I REALLY want to do, but I don't have the energy for, currently.
I love you all, and I really appreciate your support. I wish I had the time to be able to have those good days regularly, where I could have consistent content for the blog, be able to work on the hobby stuff that can feed into the blog, and also spend time with family. Alas, that's not how this works, and that's okay. It just means I have to sacrifice in one area, in order to do more in another, and unfortunately I can NOT sacrifice in the "day job" area!
So, stick around. I'm not going anywhere. I'm just going to be trimming some of the fat, and focusing more on the core of the blog, and working on having some better days.
See you tomorrow,
Tony