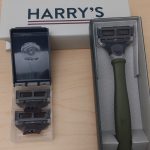 Note – The following product was sent to Geeking in Indiana as a demo for review and feedback, but the subject of a blog post did not come up until after I offered to do one. With the exception of receiving the pictured items below, neither the author nor Geeking in Indiana has received any compensation for this post, nor is there a commission if someone purchases a razor through the site. Tony just enjoyed it, and wanted to thank Harry's by telling people about their product. – Tony
Let's set the Wabac Machine to October of last year. Right as I'm getting caught with a third class in college, Halloween is coming, and I'm growing a beard, I have someone from Harry's Shaving Products reach out to me via email, and we started talking about Geeky stuff, facial hair, and shaving. Now, as many of you know, "shaving" is not one of my strong suits. Even if I'm not growing a beard, or a goatee, I'm just, well, what we call lazy. I like my sleep, so I normally don't keep enough time for shaving as part of my daily routine. I do shave on occasion, though, maintaining a subscription with another razor club since I wrote about them back in 2014.
I had this discussion with Harry's, and even with that, they offered to send me a starter kit of their product to check out, try out, and give them feedback via email. So, by the end of October, I received a box with a handle, a few blade cartridges, shaving gel, a blade cover, and a welcome note. Over the course of the past few months, I've used it sparingly, mainly using it to shave the parts of my face and neck that I really didn't want a beard on, up until this past Sunday.
As I was cleaning up after being sick for a few days, I decided it was time to get rid of the beard for a bit. After using the trimmers to get rid of a Tribble's worth of facial hair, I pulled out my Harry's razor, slapped on some of their shave gel, and actually drug sharp metal across my face for the first time in months.
Now, let's pause a minute to talk about the Harry's razor and gel. They only have one type of cartridge, which is a five (5) blade piece, with an extra "trimming" blade on the back. This is normally about one more blade that I normally use on my other razors, but with an open back design, it cleans out well and doesn't gunk up easily. Another thing of note is the handle. I'm used to many razors using a metal handle, which looks fancy and classy, but is heavy and gets kind of slick when it's wet (because I am NOT foolish enough to dry shave). The handle I was sent by Harry's, though, is from their "Truman" set, which is a lighter handle, still solid, but with a silicone covering that just feels nice in my hand. The foaming shaving gel is nice, as well, with a good lather, pleasant scent, and it doesn't leave my skin feeling greasy when I'm done shaving.
So, back to my now-bare face. It is definitely bare! Smooth, cut and nick-free, no bleeding, and I have a clean blade without any residue or trapped gunk in my shaving cup. The trimming blade helped me sharpen up the edges of the goatee I now need to regrow, and I'm generally very pleased with the results. Of course, this blade is for the face. The papers that come with it even state that it's not recommended for the scalp (not that I use a blade on the noggin, anyway, but it was an important safety tip. Thanks, Egon.), but that's okay. I've found that even a Head Blade doesn't work THAT well on the noggin!
One thing that stands out to me about Harry's is, not only can you order their stuff from their website (located here), but you can also buy it in retail. Target stores carry Harry's products, so if you forget to order, you can still get your blades! So, what can I say? Folks, if you're looking at all the different razors you can order out there, might I recommend Harry's? This is going to be the one I use, moving forward, because I like the feel of the handle, I like how the blades work on my face, and I like not having to remember a subscription. I can either order them from the website, or if I forget (most likely), I can grab some cartridges, gel, or anything else at Target for a comparable price.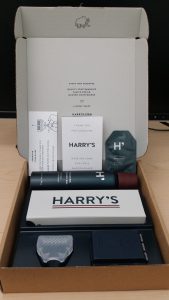 Have you had a chance to try out Harry's? Give a shout in the comments!
T