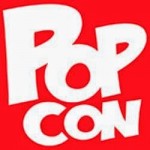 This past weekend, here in the Circle City, was the second Indy Pop Con. Last year, despite being the home town home team, they were just one of many pop culture conventions that swarmed our fair city. This year, they decided to take a step in a different direction. They cut down on the space they used, they tightened up the vendor list, and they grabbed some unique guests that confused a lot of us old-timers, but were a huge hit with the YouTube crowd. It was a great three days of friends, panels, celebrities, downtown eating, and fun.
Friday started off pretty calm. I dropped Bri off at Downtown Comics so she could do a signing of the copy of Nuvo she had her work featured in. I went to pick up our press passes, and was immediately running into friends. I went ahead and visited the floor before it opened, and had the opportunity to say hi to many of our local artists before walking from the convention center to DTC so I could get Bri her badge, as well as get some pictures of the shop for FLS Friday (this is what we call multi-tasking!) tomorrow. After dodging a monsoon, we made it back to the show, where Bri helped with a few panels, and I just started wandering the floor. I noted that they had far fewer vendors of pre-packaged items than they did the year before. Gone was the 14 booths specializing in Funko Pops (there were only a few booths this year), 20 booths selling toys from the 80's and 90's (only a couple), and so on. Instead, a good portion of the floor was filled with creators. From artists, to comic creators, to crafts, there was more of the interesting hand made items, with interesting creators to talk to. I spent the afternoon talking to everybody, until it was time to hit the Awkward Twitter Mingle, which I was "moderating". This was a great time, with folks from Twitter that I had never met before, but I was not able to get all of their handles!
Saturday was kicked off with the Young Game Developers Challenge, which I was offered the opportunity to judge. Those kids put together a great group of entries, and props to the winners, who I'm horrible enough not to have written down for today's blog post. After that, it was back to the con for more wandering, trying to find booths that held friends, but getting waylaid by other friends, or family. My little brother invited me out to lunch, so I met with him and his family, then hobbled back to the show to keep looking around. I finally had the opportunity to check out one of the Star Wars Indiana panels, talking about Rebel and Imperial costuming, which was a lot of fun. When the floor closed at 6, I staked out a place for the Indy Webcomics Group's Meetup in the Board Gaming section, with games graciously provided by Who's Yer Gamers (except for Lords of Waterdeep, which was graciously provided by Ginger Dee!) for us all to hang out, play, and have a relaxing good time.
The final day, Sunday, was the "catch what I missed" day. I was able to catch a panel with the Indy Lightsaber Academy, which teaches lightsaber safety and battle techniques here in Indianapolis. Look for more on them in the coming months. Bri was able to participate in the Men in Comics panel (YouTube Link) (Audio Podcast Link) as well, which was a smash hit, and gives us dudes hope that there is room for us in the four color medium! This was also the day to pick up some art prints, some D4's (for work discipline… trust me, you probably don't want to know), and attempt to talk to some of the celebrities.
Overall, especially considering the short turnaround time the show had, I thought Indy Pop Con went very well. There were some hiccups, which I've spoken to them about, but there was  nothing that I experienced that hurt the attendee experience. I did hear some complaints about the lines for the YouTube celebrities, but I think even those guys were shocked at the turnout the show had for them, and I know the con handled the crowds the best they could. On the podcast front, Bri and I were each able to score an interview with a guest, and we'll be recording our post-con pondering this weekend, so look for those in episode 21. If you're looking for photos, those can be found on the Geeking in Indiana Facebook page. Feel free to take a look, and if you see yourself, tag yourself!
To Carl, Smitty, Papa, Elle, Leslie, and all the folks who pulled this con together over the last few months, you did good. I believe you have found your niche, you have shown that a local group can put on a class show, and I'm looking forward to seeing what is going on next year.
Thanks for letting us play!
– Tony