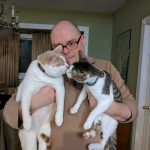 This past weekend, I took a little break from Social Media. On Friday, as I was getting ready to leave work, I deleted all apps for Twitter, Facebook, and Instagram off my phone, and for the most part, stayed off of computers until 8:00 AM Monday, when I reinstalled the apps on my phone, and got caught up on everything I "missed". As I mentioned on Tuesday Tidbits, that was a whopping two notifications on the Geeking Facebook Page, ten notifications on my personal Facebook page, twenty six notifications and four messages on Twitter, and two notifications on Instagram.
Yeah, I was missed.
Now, what did I do, instead of playing on my phone? Friday night, I was mocked at the gaming table by friends who I know from Twitter, for not actually Tweeting or doing anything over the course of the evening. On Saturday, I worked with Lizz on getting supplies for some raised beds for gardening, then helped her cut the wood (read: She cut, while I helped hold half of the eight foot pieces she was cutting) before going in and washing dishes, doing laundry, and cleaning the dining room. Then, we got cleaned up, ordered Chinese, and watched the latest episode of Star Trek Continues before diving into the special features for Rogue One: A Star Wars Story. Sunday was meal planning, grocery shopping, more laundry (does it ever end?) and hanging out with family before playing a bit of Mass Effect: Andromeda before bed. Although my main plan was to work on the Geeking puppet, I ended up not doing anything blog related over the course of the weekend, partially because I couldn't find the puppet instructions I had printed, and the printer was out of ink. Either way, it was nice having a complete weekend off from both work, and the blog, that I could use to spend time with my family, friends, and get things done around the house.
With this in mind, I'm going to start taking weekends off. Friday evenings, I'll be signing off Twitter and Facebook, and not signing back on until Monday. With the blog, and a full-time job, I'm burning the candles at both ends, and I've been doing that for so long, something is going to have to give. So, I'll be turning off notifications, putting the phone in a separate room, and ignoring it for most of the weekend as I spend time with friends and family, work on projects that could, or could not, be blog related, and just generally do things that do not involve an internet connection.
In addition, thanks to new responsibilities at work, it won't be too much longer before I can no longer keep Twitter running in the background. I'm going to start spending my day in front of new hire classes, filling their eager minds with knowledge on phone systems, ticketing systems, and technical troubleshooting, which means I can't take a break from documentation, check my mentions, and then get back to work. Eh, it is what it is. I need to pay the bills, right? Update: This is actually starting today, April 12th. Any tweets you see from me will be during breaks and lunch. Otherwise, they're scheduled. ACK!
Now, I know this isn't that big of a deal to many of the people who read this blog, because we just run posts on Monday through Friday. The blog itself isn't being changed, or effected, in any way. However, there are some people out there who reach out to me on the weekends, and folks that I talk to pretty exclusively through social media, and they occasionally read this blog, so I wanted to put this out there.
No, I'm not going anywhere, I'm just going to be around a bit less. So, please leave a message, and I'll get back with you as soon as I can.
Tony