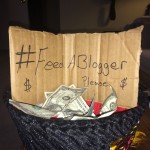 Hey there, folks. With the relative popularity of the Indiana Geeking podcast, in addition to my need for equipment and money to cover everything, I've decided to take the plunge. Many of you were very supportive when, a month and some change ago, I wrote about the inevitable need to do something like this. Today, I'm telling you about what I've done, and how I'm hoping these will help the blog sustain itself, grow, and maybe provide some compensation to Team Geeking for the hard work they put in to making sure this blog has good, well-written articles to read, and good banter to listen to on the podcast.
I'm going to be hitting on a few fronts. I'm hoping that, through these, I can start clearing out the Adsense and Commission Junction ads over there on the side bar. If you wish to give, go where you may!
Donate Button
This is a stand-by for many websites. "Hey, if you enjoy what I'm doing, and would like to see more of it, feel free to Donate." This is a simple link, just over there to the right, that allows you to make a donation through PayPal. This money is going to be used for legal things I need to get taken care of for the blog, all that fun business-type stuff that you really don't think about until all of a sudden, you NEED to think about it. This is also great if you wish to throw some money at the blog, but you don't want to worry about a monthly payment.
This has been floating around for a bit, but I wanted to bring it to the front, here. These are items I really could use to help with the podcast, and the upcoming (hopefully) YouTube channel. Items include microphones and cables, camera equipment, a new router, and consumables like batteries. If you're ever feeling really generous, like a group of people did on my birthday, then you can pick me up something from there, and you will get thanked on a page that I'm hoping to have up soon, here on the blog.
While I'm looking to get rid of other forms of affiliate banners, I like this one. It doesn't pull in much, but it does enough to pull its weight, I don't think it detracts too much from the site, and so it's staying. However, one thing I've seen my fellow Indy Geek Bloggers do is put up a "Support the Blog" page, and I'm tempted to do that, so I can move that off to a side page, and make the main page cleaner.
For those of you who use Patreon, this is a great way to help support the blog. It's very simple right now, with $1 and $5 levels. While not 100% complete, I'm throwing it live so I can stop worrying about whether or not I can pay all of the blog's bills. I'm going to be working on better rewards, and higher levels, over the summer. For now, though, if you want to start helping the blog cover expenses, and guarantee blog posts five times a week, and a new episode of the Indiana Geeking podcast every week, take a look!
I thank everybody that has shown their support over the last five years. As I start my sixth year with Geeking in Indiana in June, I hope you all stick around and enjoy the ride!
Thank you,
Tony