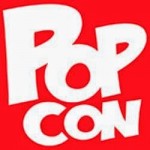 Followers of the blog know I am a big fan, and supporter, of the local show Indy PopCon. The locals that run it are awesome, and they just are looking to bring a great convention to Indianapolis, based on requests from the PopCon family. I've spent the past three years as a member of the press, covering their show through their highs and lows, and this year I'm even more psyched to actually try tabling at their show, in Internet Alley. However, this is not about me and my plans! Instead, this is about PopCon's plans for their 2017 show, which is happening at the Indianapolis Convention Center from July 7th through the 9th!
Last night was the first successful live-stream and Reddit AMA put on by the PopCon staff. Carl and Jake were manning the Twitch stream, while Smitty kept an eye on the Reddit page, and we all tuned in to see what was what.
First things first, we have the guest announcements! On this stream, over the course of forty minutes, they announced seven guests! Some come as no surprise, one had already been announced, and at this point, all of them have been put up on the website, but here we go, in order of announcement!
Lloyd Kaufman is the man behind Troma films! He has been in attendance for every Indy PopCon, and this year will be no exception!
Timothy Zahn is an author you might be familiar with, or you might at least be familiar with some of his creations. Now part of the Star Wars "Legends" series of books, Mr. Zahn wrote the trilogy that was not only credited for helping bring Star Wars back into the public eye (pre-Special Editions), but also introduced readers to Coruscant, as well as Grand Admiral Thrawn, both of which have shown up in the current canon!
Roy Thomas has been a writer for both Marvel and DC, was Editor-in-Chief for Marvel in the late 70's, and is an Eisner Award winning creator.
Richard Horvitz is a voice actor who has worked on Invader Zim, Skylanders, Ben 10, Psychonauts, and more.
Phil Lamarr is an actor and voice actor who has worked on Pulp Fiction, Futurama, Justice League… pretty much everything you love.
Gaijin Goombah is part of the Game Theorists on YouTube, and has his own channel as well, where he talks about cultural influences in video games.
Mike and Ming from Comic Book Men and the I Sell Comics! podcast will also be in attendance. From what Carl was saying, when Kevin Smith was done with PopCon last year, he was talking it up to them so much, they wanted to come this year!
These are the first announcements made for the convention. However, they have many more people in the works, but

they will not make any announcements until contracts are signed and people have said they are going to show up.
In addition to the guest announcements, they answered questions from the Indy PopCon subreddit. I didn't capture all of them (I got home from work 10 minutes before the stream started, and was eating chili for dinner), but I do have some of the questions and summaries of the responses!
Will PopCon be partnering with Gate 10 Parking again this year?

Yes! Not only are they working with them again, but Gate 10 is also going to have options for RVs, to my understanding.

How did they get into Geek culture?

For Jake, it was the Playstation demo discs that Pizza Hut would give out when he was five. It got him into gaming, and he really enjoyed Metal Gear Solid. From there, he became a huge gamer, got into Game of Thrones, and even has 13 game-related tattoos!
For Carl, he was five when Star Wars was released (old man!). This led into him making his own Star Wars Lego sets when he was a kid, well before you could easily find them on the store shelves! Now, he also hosts game nights, and is a big sci-fi and fantasy Geek.
James and Carl are two of the only members of the PopCon staff that aren't really into comic books. In fact, Carl has never even read one!

Will the 501st Stormtrooper Legion be present, and will there be a Droid Hunt?

Yes, and maybe! The 501st is a welcome part of Indy PopCon, but Droid Hunt materials need to be approved by Lucasfilm, so it's still a little ways off to say whether or not it will be happening. Everybody hopes so, though!

From a first-time cosplayer, what are the cosplay restrictions at Indy PopCon?

First thing, Carl said that most of the policies are "no brainer" sort of policies. Use common sense with costumes, especially when it comes to props and "weapons". Policies will be listed on the website, but he doesn't have them memorized for the live-stream. However, he did want to say Indy PopCon is very supportive of cosplayers, and encourages everyone to dress as whatever character they love. Indy PopCon is a firm believer in "Cosplay is not consent" and strives to be a safe, fun place for cosplayers.

Will there be after-hours events at the convention?

Yes! They are looking to have after-hours events for all ages on Saturday night, and they are looking to do events on Friday night, based on requests from past attendees who are looking for things to do after the con floor closes. In addition, on Thursday, not only will they be doing their traditional movie at the historic Artcraft Theater in Franklin, they are also looking at the possibility of doing something else closer to downtown Indianapolis.

Will the Geeky Spelling Bee return?

Also yes! Not only are they looking to have a return of the Geeky Spelling Bee, but they're also exploring the possibility of other pop-up contests over the course of the convention.

Fun Fact: Carl got his hair cut, specially for this live-stream!
Do they have any info on the Street Team, and is PopCon hiring?

First, there is always a possibility of Indy PopCon hiring. Everyone has a day job, in addition to PopCon, and the con is out-growing their ability to juggle both. In fact, that's how Jake joined the team. Concerning the Street Team, they are planning on having one this year, but they are still working on some possible changes to the program, so keep eyes open for more info coming soon!

Will Strong Style Wrestling be returning?

They are looking at the possibility of wrestling returning in some form this year, whether it's Strong Style or another group, who they are in discussions with right now. Carl spoke to the "intricacies"  of putting on a show like that, while also dealing with a show like Indy PopCon, and how difficult it can be. They can't guarantee any wrestling in 2017, but they are exploring the possibilities.
With that, the live-stream drew to a close. When I glanced down at 7:30, they had 171 viewers, and the stream had been viewed 354 times. This is a good start for the fourth year of this home-grown Hoosier convention!
So, what do you think? Are you starting to get psyched? Are you waiting for PopCon to bring out the big guns? Are you holding out vain hope for the return of some of their past YouTube guests? Give your thoughts in the comments!
Tony