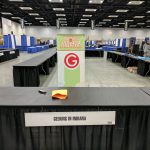 It's time to play the music. It's time to light the lights. It's time to set up my table at Indy PopCon, all right! That's right, today's the day. As this is posting, I'm at the back of the convention, near the Celebrity Photo Op section, setting up the Geeking in Indiana booth. You can all now rejoice, because this means I'm done freaking out over this booth, at least here on the blog! So, what do I have happening?
First off, I'm at booth 1254, which is on the end of an aisle in Internet Alley, facing the Celebrity Photo Op section (see map). I'm planning on manning the booth about 80% of the time I'm there, but I'm also going to need to step away for a panel, to hit the restroom, and shop for items for the Geekling. However, the booth will always have someone at it, whether it's me, or Lizz, or maybe even Grant on Sunday. While the booth is being covered, we are looking to do a few things.
First, there's the fundraiser for Exotic Animal Rescue and Pet Sanctuary. Over the course of the weekend, I'll have two donation boxes set up at the table. These boxes will have two things to choose from, like Star Wars/Star Trek, the MCU/DCCU, or Mario/Sonic (yeah, simple stuff, but I'm tired). The idea is like those coffee shop tip jar wars, where you vote with change, or small bills, and whichever box has the most money will win the vote. I am going to have a different one up every day, and at the end of the day, the money will get sealed in separate envelopes, taken back to the Geek Cave, counted, and the results Tweeted, before the full results go up on the post-PopCon post next week. Then, all that money will be set aside, and 100% of the donated funds will be dropped off to EARPS. So, please bring small change and small bills (though, if you want to vote/donate larger bills, I'm not stopping you!) and join in on the fun over the weekend!
Next, I have always wanted to figure out how to do a podcast episode featuring people talking about why they enjoy being a Geek in Indiana. After visiting the Obsessive Viewer booth last year, and participating in their PopCon episode (link), I realized that PopCon would be a great place for it! So, over the course of the con, Lizz, Grant, and I will have portable recorders, and we'll be asking people for their name, where they're from, and what they like about being a Geek in Indiana. So, if you'd like to pitch in, drop by and give me your clean opinion on the subject (remember: family friendly podcast!).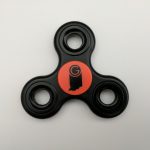 Finally, and I know I keep talking about this, but I am going to have some fairly inexpensive merchandise available. Currently, it looks like I'll have the following items available:
1" Stickers (2 styles) – $1 each
2" Woven Patches – $3 each
1" Pins (2 styles) – $3 each, both for $5
Fidget Spinners – $5 each
Geeking Uber Bundle (Both stickers, both pins, patch, fidget spinner) – $15
Cash and credit are accepted, thanks to Square. I should have about 70 – 80 of each item at the show, so while supplies are limited, they're not that limited. Still, if you think you want something, grab it, because reordering for the upcoming online shop will take a bit!
Oh, and one last thing before I go, friends. I've said this before, but it's something I'm really self-conscious over, so I'm saying it again. My memory is horrible. If we've met many times, I'll more than likely remember you. If we've met once, the chances are slim. If we've only ever interacted on social media, or it's been over three years, the chances are non-existent. Please, do not take offence! It's just the result of an old closed head injury, and I feel horribly! I wish I were the type of person who could remember everyone, but alas, here we are!
Despite that downer, I'm looking forward to seeing everyone this weekend! Come find me! High fives and fist bumps are free!
Hugs are $5. I don't give those away for free. That's just weird. 😉
See you at the show!
Tony