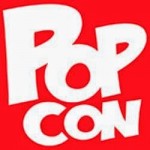 You know, I understand that a major draw of conventions is the guests. I know many people are going to be going to PopCon to check out their favorite YouTubers, or television personality. Another reason folks will go is to check out the vendors, to dig through miles upon miles of Pop Vinyl figured to try to find that elusive toy, comic, or collectible they haven't been able to locate at their friendly local shop. For me, one of the reasons I like to hit shows like PopCon is to check out many of the artists and more unique vendors that are selling something other than Funko items, or "art prints" of pieces they have printed off the internet and are selling as originals. I'm talking about the original game developers, the artists, the creators that, even if they're doing fan art, they're still creating their own material. These are the folks I love picking up pieces from, to either hang around the Geek Cave, or to send out to the Geekling. So, let's look at the listing, in numerical order by table (PopCon Map here!), of people I really recommend you check out this year! Note: Descriptions in quotation marks are direct quotes from the booth owners, describing their booths.
100 – Figid Press: Visit John in the Kid's Zone and check out his new Character Creator Station!
108 – Signing Away Hunger: This is a local charity, ran by a local Geek, that auctions celebrity autographs to raise funds for helping ease food insecurity for inner city students in Indianapolis. Donate money, or canned goods, to help the cause!
305 – Five Year Mission: Visit the local band who is working on creating music to cover every episode of the original Star Trek series! Plus, they are awesome enough to let me use their music for the sporadic Indiana Geeking podcast, so thank them for that, as well, by buying one (or all) of their albums!
521 – Geeks 1st: Custom game and card boxes from a local maker! I met them at Who's Year Con, and their stuff looks pretty dang cool!
741 – Extra Life (Indy Guild): "Gamers raising money for hospitals in the Children's Miracle Network. Indy Guild raises for Riley Hospital for Children."
847 – Station Ventures: They will be demoing the character creator for their program, Nights of Yore, which I have spoken about on the blog before. If you're into RPGs, give them a look!
852 – Buy the Rights: The Movie Pitching Party Game: They "have copies of the game for sale for $25, plus the 80s Action Expansion for $5, with other goodies!"
913 – The Shake Ups: What can I say? They are a fun, family-friendly pop band based out of Indy, I have had them on the podcast, they're all pretty dang awesome people, and you need to go by and buy all of their albums.
916 – Hallopino: Okay, they're not quite local, but they are a good friend from Social Media, that I enjoy seeing every PopCon. Check them out!
923 – Samantha Kyle: I'm really excited to see what Sam has available at her booth this year! She's a great person, fantastic creator, and a former contributor to the blog!
925 – Chris & Gin: Creators of The Brothers Grant, Presidents of the United Space, Dexter's Digs, and other fun stuff! Check out their newest project, Pitched!
927 – Sickeningly Sweet Studio: "Fan art prints, charms, buttons, pride & pronoun buttons."
929 – The Geekporium: "Accessories for geeks, made by geeks. Clockwork jewelery, fabric fandom keychains and chokers, badge holders and more."
931 – G Pike Studios: G is fantastic. Creator of both original content, as well as bird and Pokemon fan art, they have a great selection, and I love their style!
952 – Fatecrafter: "Experience a while new type of roleplaying! Fatecrafter is an RPG set in a Victorian crystalpunk universe, where you play one of the few people gifted the ability to shift the flow of Fate. The game is completely diceless and uses a Tarot deck as its random element. We will also have shirts, crystals, and steampunky jewelry."
1026 – Raptors on the Moon: "… consisting of myself Devin Scott (Devin Draws) my sister in law Jessica Darling and our friend Abbie Williams! Not only will we have prints featuring youtubers like Markiplier Jacksepticeye The Completionist Peanutbuttergamer and more I will also have the trading cards for Peanutbuttergamer, Projared, and Did you know gaming!"
1030 – Zombie Daisuke: Z does a lot of great fan work, as well as original content. I especially like their superhero and Star Trek pieces!
1031 – Artist Izzy: Izzy Rae Brown is another fun and fantastic artist, working in animation and teaching at IUPUI. Check out her work!
1046 – Kahahuna: Jess is a fantastic artist, with her finger on the pulse of pop culture. Lots of great stuff from Doctor Who to Overwatch, and even has tea available!
1107/1026 – Aw Yeah Comics: It's an endcap! Aw Yeah Comics out of Muncie is one of my favorite comic shops in the state, so of course I'm going to give them a shout here! Check out their table, say hi to Christy and Kyle (and maybe Sy?) for me, and give them money!
1122 – Little Guardians & Nutmeg: Little Guardians is about "family, destiny, and kicking demon butt." Nutmeg is what you get when you cross Mean Girls with Breaking Bad.
1124 – Whitney Rader Illustration – "I have prints available for many fandoms! Youtubers like Markiplier, Jack Septic Eye, and will be working on Ethan as well. Fanart of Game of Thrones, Walking Dead, Marvel, DC, and lots of original art including sugar skulls, dragons, fawns and fantasy portraits."
1148- Mike Ficarra: Artist, writer, awesome dude.
1150 – The Established Facts: One of the podcasts I look forward to! Meet the folks behind this podcast, talk games, get involved in their PopCon giveaway! There might even be Geeking in Indiana merch thrown in!
1239 & 1241 – Podcast Indy Group: This networking group of local podcasters will be where you find folks who are only around part of the weekend, like Cult Cinema Cavalcade and more!
1248 – The Obsessive Viewer: You know I love these guys! I've been on their show, they've been on mine, they're just great. Give them a visit!
1350 & 1352 – Circle City Ghostbusters: Aside from keeping PopCon completely free of all otherworldly threats, the Circle City Ghostbusters will be on hand to raise money for charity and sell items to help assist you with warding off the supernatural at home!
That's a lot of people, right? If you can, drop by their booths and give them some love! Now, since I have a lot of friends in the podcast community, let's throw some love towards the Podcast Stage! Here are the folks I recommend you check out!
You can check out the entire schedule at the Panels Page, under the Podcast Stage, at this link!
See you tomorrow for info on what I'm doing, and I'll see you at the show!
Tony