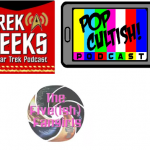 In late 2016, I did a blog post talking about a couple of local podcasts I enjoyed listening to (Media Monday – Local Podcasts). Since that time, I've been able to get caught up on those, and start getting caught up on other podcasts. With the return of the Indiana Geeking Podcast last week, I started thinking about how I had to give a shout out to some of the other local podcasts that I've been listening to. So, this week, as Grant is busy with his mid-terms at IUPUI, I'm going to give some love to a podcast I've listened to for a bit now, a podcast that had been on hiatus but came back the same day as the Indiana Geeking Podcast (coincidence? Well, more than likely.), and a bonus podcast that, while not local, features music by locals and is just a fantastic listen. So, fire up your favorite podcatcher and let's talk about some good internet talk radio.
There are some really good people that I have a tendency to run into at conventions, and that makes me happy. One of those people is the outstanding Rachel of the Five(ish) Fangirls Podcast. Rachel is one of the five members of the team, and she's the local member of a group of podcasters that spans from Canada, to Wisconsin, to Utah. Brittany, Chrissy, Holly, and Mich round out the five, and since they all can't make every episode, that's why they're the "Five(ish)" Fangirls.
This podcast covers a bit of everything that comes up in Geeky conversation. They talk about conventions, television, movies, Geeky news, the full nine yards. Their most recent episodes have covered Agents of SHIELD, shipping characters, Geeky news bits, and more. It's fun conversation between a group of women that love Geeky things.
This is a new one I've started listening to, with their first 2017 episode popping up the same time my first 2017 episode did! Pop Cultish is ran by Tony and his wife, and they talk about more general Geekery. They've done some fun stuff like record with the Established Facts (who I have a shout out to before), interviewed some cool people, and have talked about some interesting topics.
Plus, let's be honest. It's an Indianapolis-based, Geeky podcast, ran by someone named "Tony", that just released their first episode of 2017. How could I NOT give them some love? Now, if only they would get their 'cast up on Google Music so I could throw it into my rotation easier!
Yes, I know this one is not local, but it's still very awesome, and they do feature the music from the local band, Five Year Mission! I have been listening to Bill and Dan talking Star Trek since episode 54, and this show is very well done. It sounds great, they have on great guests, their topics are a lot of fun to listen to, and they are very interactive with their fans, be it on their Camp Khitomer Facebook Group, or on Twitter. I've had a few conversations with them, and heck, Dan graced me with a very personal, touching story from his life and how Star Trek has touched it for my final English Comp paper last summer. If you're a fan of Star Trek, in any of its forms, I strongly recommend checking this podcast out!
Links for all of the podcasts mentioned are in their section titles, and I'll see you all tomorrow for Tuesday Tidbits!
Tony