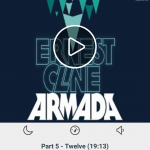 Last week, I wrote a bit about "Frugal Geeking", and discussing how you can get your Geek on through your local library. This week, Grant had family obligations and a ton of homework, and since I haven't had time to actually pick up a physical book, I wanted to get something out to you concerning what I've been Geeking on through the Indianapolis-Marion County Public Library, and hopefully let you know a bit more about what you can get from the library!
For those that don't know, Overdrive allows you to access your electronic library, including eBooks and AudioBooks. They have an app, available on iOS and Android, that allows you to connect with the library and either read or stream your books, to consume on your mobile device. Since I finally took the time to get everything set up, I've listened to two books, which is sadly two more books than I was able to read in 2016 (not including textbooks, or books for classes). Just like the library, not everything is available, and sometimes you have to wait for a book to become available. In addition, you only have it for a limited amount of time, just like with a library book. For example, I'm number 8 on the list for the AudioBook Rogue One, with five copies available, and I have four days left on my copy of Armada, with five hours left in the book. As I mentioned on a conversation on Twitter this morning, I'm just running off the assumption that there are "limited" digital copies, because the library has purchased licenses for only so many copies of the media. I don't know for sure, because I'm no expert, but it makes sense to me! So, what have I "read" using this?
First Book – Zombie Spaceship Wasteland
I've been listening to a lot of Patton Oswalt's comedy lately, because it makes me smile. I tried reading this book when it first came out, but I ran out of time and had to return it. So, I figured, what would be a good way to ease into this new (to me) format? I'd listen to something new, read by someone familiar. I was right, it was a good entry point.
Zombie Spaceship Wasteland is a collection of stories from Oswalt's life, from childhood, through working at a movie theater, to some of his first experiences doing stand-up comedy, all read by Patton Oswalt, himself. They were all very entertaining tales, and of course it goes longer than his normal stand-up. One thing I found interesting was his descriptions of chapters that contained artwork, and how that doesn't work well over the medium being used. All in all, it was a fun listen, and I recommend it to anyone who likes his comedy and writing.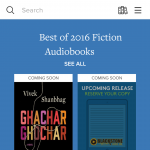 Second Book – Star Wars: The Force Awakens
As I was going through my selections, and being put on wait lists for more current books I wanted to listen to, I decided to check out the novelization of a film I enjoy. I have always found film novelizations interesting, because sometimes they have scenes that aren't in the film, or things that have been changed, because the information is given to the novelist before the film is completed and cut. The novelization was written by Alan Dean Foster, and was read by voice actor Marc Thompson.
I think Star Wars: The Force Awakens needs no explanation as to what it's about. Some things I would like to point out about the Audio version are the inclusion of scenes, like Chewie ripping Unkar Plutt's arm off, that were removed from the film. In addition, while I thought Marc Thompson did an entertaining job, his decision to almost make Finn sound like Keanu Reeves from the Bill and Ted movies was, at best, distracting. Overall, though, it was a good second book.
As I said, my third book is Armada, which I need to finish by Thursday. You can keep track of what I'm reading over on my Goodreads page, if you're that curious, because this is the only time I hope to be writing about my Overdrive list!
Next week, Grant will be back, and I'm going to start reading my first book by a local Hoosier author for my next Media Monday post.
Have a great week!
Tony