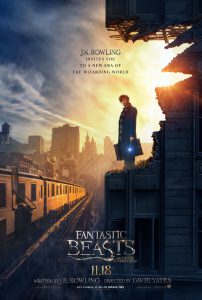 If I am being completely honest here, this is a movie I never thought I'd see made. The Harry Potter series of films are so substantial that I never thought I'd see a spin-off movie, let alone a planned five. I absorbed the Harry Potter books as a kid, and I like to consider myself decently knowledgeable on the wizarding world. However, I went into this film having little to no expectations, knowing that, even if it sucked, I'd get to see cool magic effects and hear a decent score. While I don't think it really blew me away, I left this film feeling fairly impressed.
Fantastic Beasts tells the tale of Newt Scamander, a magical zoologist of sorts who spends his time writing about and collecting various magical beasts. The film is set in 1926 New York, and one of the coolest aspects of the film is getting to see what magic is treated like in America. The backdrop is one of tension, as a terrorist named Grindewald has been trying to provoke a war between wizards and non-magical folk.
The cast did a decent job bringing these new characters to life. Eddie Redmayne played Mr. Scamander wonderfully, a performance that was akin to the Eleventh Doctor in a lot of ways. Ezra Miller and Colin Farrell were both highlights for me as well, playing the antagonists of the film Credence and Percival Graves. The fan favorite seemed to be Dan Folger as Jacob Kowalski, a "no-maj" in New York who gets swept up in Newt's adventures and serves mainly as comic relief.
The plot of the film involves Newt journeying to New York in search of another magic beast, and finding himself caught up in violence and dark magics as he tries to hunt down his creatures that get loose. While I did find the film overall fun and enjoyable, I think the plot had some major pacing issues. There were also a lot of different characters, so things felt like they were jumping around a lot, and I often found myself forgetting who some people even were.
Two of my favorite parts of the film however were the exploration of magic in America, and the fantastic beasts themselves. In New York, there are strict rules enforced keeping "no-maj's" from learning about the existence of wizards. However, there are some people calling themselves "Second Salem" who not only believe in witches and wizards, but believe them to be a threat. Here, the US Government has a department of magic and there are speakeasies run by goblins. It was a really cool way of bringing the world of Harry Potter over to our side of the pond.
The magical beasts throughout the film served mostly as a loose plot device, but their designs were awesome. The Niffler, a mole like creature that horded gold coins and jewelry, was ridiculously cute, while other creatures, like the size-changing flying snake thing, were downright awe-inspiring. Every time Newt entered his zoo, I found myself on the edge of my seat, waiting to see what new creatures would be revealed this time.
Overall, while the movie did have some major plot issues, I enjoyed the film. If you're a fan of Harry Potter, I definitely recommend this film. If you're just looking for something fun to watch with the family, or a very cool magical fantasy film, I also recommend checking this one out!
I'll see you all next week with whatever I decide to write about then!
Grant