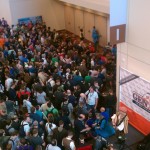 This is the week, my friends! The Best Four Days in Gaming are coming to town this Thursday, Friday, Saturday, and Sunday! Not only are there many games to be played, dice to buy, and cards to hunt for, there are also many pieces of media to consume! This week, I'm going to look at some of those pieces of media, especially the musical pieces of media! Some of these are things you can just attend, some are off-site events, some will require event tickets (event ticket links require you to be logged in to your Gen Con account), so look carefully at what's going on before you make plans!
Concert Against Humanity – Paul and Storm! Cameron Esposito! Molly Lewis! The Doubleclicks! Kumail Nanjiani! John Scalzi! Patrick Rothfuss! The makers of Cards Against Humanity are trying to keep attention focused on themselves by, instead of selling games, bringing a great bunch of entertainers to the Murat Theater! This is on Friday, July 31st, and it is a separate event from Gen Con. As of this writing, tickets are still available, so visit the website to pick them up, and we'll see you there!
The Doubleclicks – The great musical duo of the Doubleclicks is taking Gen Con by storm! Not only are they appearing in the aforementioned Concert Against Humanity, they are playing at the Gen Con kickoff party on Wednesday, and they have shows on Friday and Saturday! Check out the information on their webpage! (Event tickets required for Friday/Saturday shows)
Shake Ups in Ponyville – I see Pony fans every year at Gen Con! From standard Pony cosplayers, to Mandolorian Ponies, to World of Warcraft Ponies, I know they are there! They should be attending the Shake Ups in Ponyville show, then, on Saturday at 5PM! The group includes #TeamGeeking member Samantha Kyle, so show some love to the blog, and check them out! You shall not be disappointed! (Event ticket required, click here for more info)
Five Year Mission – Our very own Star Trek tribute band will be playing at the Gen Con kickoff party at Scotty's Brewhouse downtown on Wednesday night at 7PM, and will have an event show at Gen Con on Saturday night at 7PM! Check them out, and you will be glad you did! (Event ticket required for Saturday night, click here for more info)
The great Luke Ski – A Gen Con tradition! Coming in to Gen Con after a triumphant year working for Cartoon Network, he is back for his 21st year! A founding member of the FUMP, and a frequent contributor/top played artist for the Dr. Demento Show, his show will be at 9PM on Saturday night. (Event Ticket required, click here for more info)
These are a few of the shows I either know I'm hitting, or I'm hoping to hit. When we start hitting late on Saturday night, my body starts to revolt, and I start thinking that my bed sounds like a good place to be. What events are YOU looking forward to this weekend?
Tony