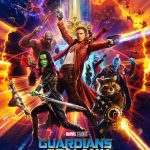 Back in 2014, Disney and Marvel took a bit of a gamble by making a movie starring a talking raccoon, a sentient tree, and Chris Pratt as an action hero. The gamble paid off, pulling in a respectable $773.3 million worldwide, according to Box Office Mojo (because citations are important, folks!). My thoughts on that film were posted up in a Media Monday back in August of 2014 (here's the link, if you're curious), and my thoughts on most of the other recent Marvel films can be found, if you dig through the Media Monday posts. For those who don't care to dig through, I'll remind you that I am pretty much a Marvel Cinematic Universe (MCU) fanboy at this point, thoroughly enjoying almost everything they have put out. I'm not going to bore you all with a list of my film rankings, but I will say that the original Guardians of the Galaxy is at the top of that list. With this in mind, I was very excited when the original posters and information about the sequel, Guardians of the Galaxy Vol. 2, started hitting the internet, though I did quickly start ignoring everything after the second trailer, to try to go into the film as "cold" as I could.
Guardians of the Galaxy Vol. 2 picks up a few months after the events of the first film. There is a lot going on, and I'm not sure what all can be considered a spoiler or not, so I'm going to do my traditional fallback of providing a movie trailer, provided by the Marvel YouTube channel, to help give you a feeling for what the movie is about:
As you can tell from the trailer, the whole team is here. Peter "Star Lord" Quill, Gamora, Drax the Destroyer, Rocket, and even Groot. In addition, you have Yondu and the Ravagers, Nebula, and a host of new characters and alien races for the group to insult. There is the requisite beautiful and rich environments and planetscapes for you to enjoy on the big screen. There is the standard wit and wisecracks, and general attitude that James Gunn introduced in the original film, but was it good?
I have read a lot of folks online saying they love it, and it's even better than the original. For me, I don't feel that, though it did come close. The first half of the film felt very disjointed and unfocused, and I didn't really feel like it found its path until after the first hour or so had passed. Baby Groot was cute but, well, I'm sorry, but there is a bit too much of a good thing, and at lease one of his "cute" scenes just went on a bit too long. On the flip side, there were parts that made me very emotional, especially the parts dealing with father/son relationships and parenting, as well as the very end. There were also parts that had me laughing out loud. Both sides of this, combined with the really good cast and visuals, make everything equal out to a very solid and fun film, but it's not dethroning the original from the top of my list. I also agree that it joins Captain America: Winter Soldier as one of the best Marvel sequels, surpassing Avengers Age of Ultron and Iron Man 2 in terms of enjoyability and quality (though it doesn't edge Iron Man 2 out by much, but that's also because I really enjoy that one!).
What I can say is that, all in all, Guardians of the Galaxy Vol. 2, while it does not achieve a wondrous state of perfection and bliss, provides a couple hours escape from everything happening in real life. It made me laugh, it made me cry, I got to see Chris Pratt's abs again, and all of that together isn't bad. It's a great escape, and it was a great way to cap off a weekend of Geeky music and free comic books.
Guardians of the Galaxy Vol. 2 was just released this past weekend, and is rated PG-13 for "sequences of sci-fi action and violence, language, and brief suggestive content" (thank you, IMDB!) It has a run time of 136 minutes, and there are five scenes throughout the credits, which you want to pay attention to for some fun Easter eggs, as well! It really is a fun movie, and it looks fantastic on the big screen, so I strongly suggest you check it out!
I'll see you tomorrow, and Grant will be back next week!
Tony