I've been writing for Tony for a few months now. This of course is a volunteer gig strictly for fun and out of love for writing. However, there are a few occasions in which writing for this blog has some great perks. One of these great perks is being able to attend certain conventions with a press badge, and recently I attended my first press convention: Indy PopCon!
Before I get into my experiences at the convention itself, I wanna talk a little bit about the show's marketing. Indy PopCon did a phenomenal job getting many incredible guests to attend. From voice actors, to YouTubers, to a few TV/Film actors, PopCon did an outstanding job getting a bunch of celebrities to come to want to come to a nowhere city like Indianapolis. While I didn't get to meet everyone I wanted to, PopCon helped me meet the first YouTuber I ever followed, and they allowed me to be in the same room as one of my role models!
I was only able to attend PopCon on Friday, so I didn't get the full experience like I was hoping. But of course, life and that dreaded work got in the way. While at PopCon, I had a wonderful time being surrounded by all forms of fandom. I spent a lot of time perusing the merch on the show floor, wishing I had actually received my paycheck like I was supposed to (part-time job strikes again!). The Artist Alley was awesome, and the Internet Alley housed many people I follow on a daily basis. I caught a few interesting fan films, and had an overall great time.
Like I mentioned earlier, I was able to meet the first YouTuber I ever followed at PopCon this year; Ray Narvaez Jr. I used to watch Rooster Teeth's Achievement Hunter videos all the time when I was younger, and my first experience with Ray was on one of his early achievement guides. Eventually, Ray became a main team member for Achievement Hunter, and his awesome brand of comedy was present in multiple videos I watched every day. His humor definitely helped influence my sense of humor, and he helped keep my love of video games alive. It was incredible to finally get to meet him! Ray was extremely kind and genuine, and gave me a signed postcard and picture even though PopCon had run out of wristbands. It was an awesome celebrity/fan experience.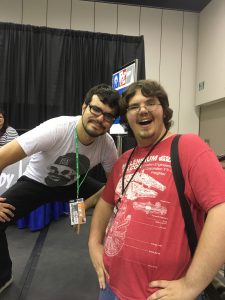 I also must thank PopCon for letting my spend so much time near Ninja Sex Party. I am broke and was unable to buy a VIP meet and greet ticket, but I still got to stand incredibly close. It was incredibly awesome of Indy PopCon to let so many fans who couldn't buy VIP tickets stand so close, and it was incredibly awesome of Ninja Sex Party to greet and acknowledge the audience that gathered in front of their table. Dan Avidan is an incredible vocal/comedic role model of mine, so PopCon actually helped me cross two items off of my geek bucket list.
I haven't attended very many conventions in Indiana, but of the few I have, I must say that Indy PopCon is my favorite. The incredibly positive attitudes of the staff is a welcome addition to any convention, and they really put the guests first. I had a load of fun, and I regret not being able to attend a second or third day! I will definitely have to check out Indy PopCon 2017 next July!