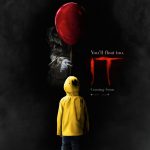 If you remember, about a month ago I did a Media Monday post on The Dark Tower (link). In that post, I talked about how I was on a huge Stephen King kick in the late eighties, and early nineties. Of course, as I was on that kick during that time period, I had a chance to not only read It, but also watch the mini-series when it aired. Now, over the past twenty seven years or so, I haven't put much thought into it, other than to occasionally post gifs of Tim Curry to friends who fear clowns, or talk about how "they all float down here" when the conversation allows it.
Recently, though, the Obsessive Viewer Podcast has been hosting group viewings of films, through their Facebook group (Link). That's why I went to see The Dark Tower, and when it was announced that their next one would be another Stephen King movie, I thought, "Why the heck not?", and grabbed a ticket for It. This is the first horror film I've seen in the theaters, since The Blair Witch Project (I thought it was Freddy's Dead: The Final Nightmare, but my brain decided to finally spit that memory out about two minutes ago). As most of you may have noticed, horror is not my preferred genre to watch, or write about. However, with some good looking trailers, and good memories of the source material, I figured I'd be okay with this.
Speaking of trailers, let's roll one, to show what the movie is for those who might not know:
This is one of those Stephen King books, and mini-series, that really doesn't need much explanation. Kids versus an evil being, who has the preferred form of a clown. Now, and this might be a spoiler, but this film is only part one. The book switches between the 50's, when the group were kids, and the 80's, when the group were adults. In order to make everything work well, they made this film focus solely on the kid's journey, and bumped it up to the late 80's, and the inevitable sequel will focus on their return as adults, in present day Derry. It worked wonderfully.
For something that was fairly low budget (if $35 million can be considered a "low" budget), it was beautiful. The area they chose to represent Derry was gorgeous, the effects they used were effective and looked fantastic, and it just felt like it cost more money than it actually did. The acting was top notch, from every one of the child actors, to Pennywise himself. The movie just worked, if you know what I mean. With the exception of a few things, it worked oh so very well, and it was fantastic.
Now, not every film is perfect. It did have a few things that bugged me. First, there was poor Mike, who the kids rescued from the gang of bullies. There was not much of a connection between him, and the rest of the "Losers Club", at least as shown in the film. Yet, when it's time to go into the mouth of certain death, he's right there, with the rest of the group. Also, towards the end (gonna be vague, don't worry), there's a part where one of the kids ends up separated from the rest of the group. That cut was extremely jarring, and leading up to it, there was no way to see that he had wandered off.
As I said, I went and saw this with the Obsessive Viewer Facebook Group on Saturday, and after the viewing, a few of us met up, grabbed a coffee, and hit the outside eating area of an area bookstore to record an episode of the Obsessive Viewer Podcast (Link). You can hear me talk more on this there, as well as hear people who are actually familiar with the book talk about it!
Stephen King's It has a run time of 2 hours and 15 minutes, and is rated R for violence/horror, bloody images, and for language. The film was wonderful, I will be picking it up on blu ray, and I am looking forward to the sequel, to wrap up the story line. With a fantastic opening weekend, it seems like many people agree with me, as well.
I'll see you all tomorrow, for Tuesday Tidbits!
Tony