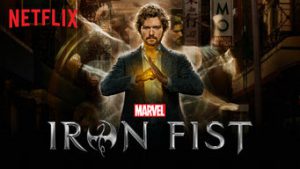 Continuing my recent habit of writing about Marvel's foray into Netflix originals, I bring you thoughts on Iron Fist. Of all the shows that Marvel has released, this one I find to be the most controversial, if only because everyone seems to not like it very much. I was definitely a bit late to the game with this show, starting it way back when it came out and not finishing it until now, but I always had one thought driving me: I know I'll like it more than most people. Having finally finished the show, I was correct in that thinking; though, I definitely understand why people don't like it.
With a mostly spoiler-free attitude, lets start with what I didn't really enjoy. This was Marvel's final hero show before the big team up in Defenders. This is very obvious in the show. As much as Iron Fist wants to be about its titular hero, I couldn't help but feel like it was all setting up something bigger that it never quite reached. The show felt overcrowded, with Danny Rand feeling more like a supporting character in his own show than the lead. The New York setting started to feel stale here, which was very disappointing; I felt like the show missed an opportunity to use its setting as a character, much like Luke Cage used Harlem. The Hand wasn't nearly as menacing to me here as they were in Daredevil, and some episodes were very poorly paced, making them a slog to get through.
All that being said, there is so much about Iron Fist that I really enjoyed. I found all of the performances to be wonderful, contrary to what some internet detractors thought. Finn Jones brought a trapped-child vibe to Danny Rand, really emphasizing how lost he feels in this world he once belonged to. Jessica Henwick was always a joy to watch, working through Colleen Wing's great character arc without faltering. There were two performances that really stood out to me: David Wenham as Harold Meachum, and Wai Ching Ho as Madame Gao (reprising her role from Daredevil). Wenham scared the crud out of me, really showing off the downward spiral as Meachum slowly became less human. Madame Gao, much like in Daredevil, was just a phenomenal villain, and I really appreciated getting to see her receive more screen time this time around.
There are a couple of common criticisms I've seen online that, while I understand, I don't personally agree with. Many were disappointed in the fight scenes, comparing them to scenes in the other Marvel shows. I personally wasn't disappointed in the slightest; while not as impressive as the fights in, say, Daredevil, the fights in Iron Fist were more central to the character of Danny Rand, and so I found the less flashy approach to feel more in line with the show. Many people were frustrated that K'un-Lun was only spoken of and never really shown, but that didn't bother me. It was clear that, though the character has a much more mystical background than the other Defenders, the showrunners wanted to keep the grounded feel of the other shows, and I get that. There's always season two to show off more mysticism!
Overall, I enjoyed Iron Fist immensely, though I get why other people didn't. While I love them all, it is definitely the bottom of the Marvel Netflix collaborations. However, it did get me more excited for Defenders, and seeing Danny Rand interact with the other heroes we've come to love in the streets of New York.
If you're a Marvel fan who enjoyed the other Netflix series, but haven't watched Iron Fist in fear of being disappointed, go ahead and give it a watch. It may surprise you, and if not, at least watch it for a better understanding of Defenders.
Hmm, all this talk of Defenders is giving me some future-blog-post ideas….
See you next week, folks.
-Grant