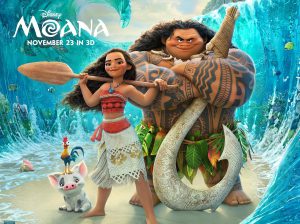 I will admit, I'm a sucker for Disney films. The combination of two of my favorite things, voice acting and animation, puts the yearly animated Disney flick onto my "see in theaters" list. As I wrote about long ago, I love the musical Hamilton. A lot of that love is due to the songwriting mastery of one Lin-Manuel Miranda. When I found out that Lin would be writing the songs for Moana, it rose to the top of my "must see" list. So amidst the business and overeating of Thanksgiving weekend, I managed to squeeze in a theater viewing of Moana.
And I was not disappointed at all.
Moana tells the tale of a young island girl named Moana (obviously), who sets off to return a sacred gem and bring life back to her home island, with the assistance of The Rock (playing basically himself as the demigod Maui). The story in this film tends to follow similar Disney traits; the hero is not defined by material but by their character, the hero follows their heart to find their true calling and power. However, this isn't an issue; as they say, if it ain't broke, don't fix it. Moana's tale is a coming-of-age story, and one that I think is very empowering for young women everywhere.
The performances in this film were wonderful. Dwayne Johnson absolutely kills it as Maui, bringing charm and gravitas to the over-the-top character. It really works since he's basically playing himself; at one point, Maui even gives Moana the People's Eyebrow. Newcomer Auli'i Cravalho is wonderful as Moana, giving a strong and inspiring performance as the young heroine. I was particularly pleased with a brief appearance by Flight of the Conchords' own Jemaine Clements as a 50 foot crab monster named Tamatoa. Clements does a wonderful, David Bowie-esque performance that helps the minor villain character really stand out.
The animation, as per Disney standard, is absolutely gorgeous. The characters are all brought to life with fleshed out facial features, and the colors really help keep the happiness alive in a film that mostly takes place on a boat in the ocean. The ocean itself was actually my favorite part of the animation; I love some good computer generated water, and the water in this film was so incredibly lifelike and gorgeous that I couldn't help but grin the whole time.
The most important part of this film for me was Lin-Manuel Miranda's songs, and boy do they deliver. While I found them all wonderful, I'll only point out a few of my favorites (with links to YouTube so you all can hear them too). "How Far I'll Go" is the movie's classic Disney Princess song, but it is so much more than the others. Moana is truly a hero, who's personal want to see the sea is put to the side by her duty to her people. "We Know The Way" is the song that basically tells the tale of Moana's people in a short amount of time, and the scene over which this song plays is jaw-dropping and inspiring. "Shiny" is a fun, Bowie-esque villain song sung by Tamatoa, and while it isn't really necessary to the plot, boy is it a great song! And finally, my favorite of them all: "You're Welcome" is Maui's song, and by extent The Rock's song. Did you guys know he could sing? This song is just so much fun, and I guarantee if you click on that link it'll be stuck in your head!
Moana, in my humble opinion, is the best Disney animated feature in quite a while. The beautiful animation, wonderful voice performances, and glorious songs all bring this incredible journey together into an unforgettable theater experience. And yes, it's better than Frozen.
As Tony said on Facebook (for any of you who saw that post), these next couple of weeks will be very busy for the both of us. With classes coming to an end, I'll be spending a lot of time writing papers and studying for finals. I will do my best to get as many new posts out as I can, but unfortunately no promises!
Hopefully I'll be back with a new post ASAP!