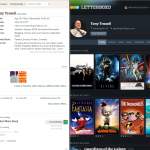 Happy Monday, my friends! Grant's enjoying his spring break, leaving me to talk more about random media-related items that come to mind at 7:40 AM, the day the post is supposed to go up! In all honesty, all I've watched lately is Disney movies, including multiple viewings of Moana, which Grant has already written about. Since we are both in agreement on this (see it, own it, love it), it seems kind of cheap to just write about it again. So, instead, I'm going to go the cheaper route, and talk about how I keep track of the media I'm consuming.
There are two websites that I consistently use to keep track of my media, or in this case, movies and books. First is Letterboxd, for movies, and then is Goodreads, for books. I've mentioned Goodreads before on the blog (link), but I'm going to go into it a bit more here. While I'm sure there are other sites out there, and I'm sure there are people who feel the site they use is superior, and I'm a fool for using these, the fact remains this is what I am used to, and use, so hush.
Letterboxd is a website that I was introduced to by Matt from Obsessive Viewer. Since he is, well, an Obsessive Viewer of movies, he would put the films he saw, with reviews, up on a website. The podcast's end of the year episode (OV 199) had me thinking, "How many movies did I watch in 2016?" which I couldn't answer, so I decided to start using the same website to keep track of my films.
Letterboxd is a pretty standard site, letting you rate and review films you've watched. I use the free version, because I'm just doing simple tracking of what I'm doing, but there is a "Pro" version that gives you more information, if you're a real stats junkie. For me, I like using it to keep track of my films, as well as to see what my friends are watching, so I can judge their viewing choices. I admit, I'm probably also being judged, since so far all of my March films, except for one, have been Disney animated films, but isn't this what friends do? So, when I put a film in, I can add the date I watched it, whether I have watched it before, put a review, tag the post, give a "Star" rating, like the film, and (IMPORTANT) tag whether or not the review contains spoilers, and if I want to publish it on Facebook. It's fun, it lets me know how many times in a year I'll watch Wreck-It Ralph (twice, so far), and it'll be fun looking at my info come the end of the year. The only downside I have found is the lack of a mobile application. If you're curious, the link to the website is at the top of this section, and my profile page is located at this link.
I have been a member of Goodreads for a few years now, with my first book on the site being listed as completed on January 19th, 2013. Needless to say, I can't remember who brought this website to my attention. There is a strong possibility that it was Nicole from Pure Geekery, so I'll go ahead and give her the credit! I have used it very sporadically over the years, but this year I'm giving it a bit more focus.
Goodreads is another standard "tracking" site. Using either the website or their mobile app, you can track and review what you're reading, share with your friends, see what they're reading, and participate in reading challenges. The interface takes some getting used to, as does tracking your reading progress (I have to dig a bit to find the "audiobook" options, for example), but it's still a good way to shame yourself into reading more! If you want to check it out, the main page is linked at the top of the section, and my  profile can be found on this link.
So, this is what I use to keep track of movies and books, both of which I need to consume more of, and then write about, so I"m not scrambling at the last minute to get a Media Monday post done! So, what do you use? If you use one of these two already, drop me a friend request!
See you tomorrow,
Tony