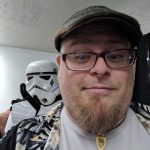 As much as I love supporting local projects, be it media or conventions, I'm still easily pulled in by the standard Hollywood blockbuster. Let's face it, sometimes you just want to go to the theater, get a soda and some popcorn (I'm a traditionalist), and relax for a few hours watching something familiar. This year, especially this summer, there is going to be a goodly amount of films coming out that are going to make me pull up my AMC Stubs app, get some tickets, and just veg out on weekends. Today, as Grant is prepping for finals at IUPUI, I'm going to go down the list of many of the films I'm looking forward to, between now and the end of 2017.
So, let's just go down the calendar here, and if there's a trailer? I'll link the title to it.
May 5th: Guardians of the Galaxy, Vol. 2 – Really, this and the rest of the Marvel films are kind of no-brainers. The original Guardians of the Galaxy is towards the top of my list of favorite Marvel films (you know, if I ever put together a legit list of favorite Marvel films), and this one looks to be just as much fun.
May 26th: Pirates of the Caribbean: Dead Men Tell No Tales – This has been such an uneven batch of films, but I still have a morbid curiosity about this one, especially since it's been six years since the last one.
June 2nd: Wonder Woman – This is the last chance I'm giving WB and DC. I'm really hoping for a good, if not great, Wonder Woman film, and the trailers have made it look good, so far. My opinion of this is going to help me decided whether or not Justice League is going to be part of my film budget for this year.
June 16th: Cars 3 – While Cars 2 was a travesty that even cause the Geekling to look at me and go, "Why?", I did enjoy the original Cars. The trailers have me wondering where they're going with this one, and the concept of aging does kind of speak to me right now, so I'm going to give it a shot.
July 7th: Spider-Man Homecoming – Seeing Spider-Man join the Marvel Cinematic Universe in Captain America: Civil War had me ready for this film, though I do admit I'd much rather see something around a character like Captain Marvel or Black Panther before I see another Spider-Man film. However, this is here, so I'm going to see it, and hope it's not as Tony Stark-heavy as the trailers show.
August 4th: The Dark Tower – First off, could you please throw us a frakkin' trailer for this? Second, I want to see it based on Idris Elba and the excitement of The Obsessive Viewer guys alone. I haven't read the books in years, I'm not a huge Stephen King fan anymore, but here we are.
November 3rd: Thor Ragnarok – This trailer just came out in the last week or so, and I'm sold. The first two films were kind of slow, but this one doesn't look like that at all. I'm really behind this Thor film, and I'm really excited to see how it starts bringing us closer to Infinity War, because it's got to, right?
December 15th: Star Wars The Last Jedi – While I wasn't brought to tears like many of my friends who viewed this trailer, it's still new Star Wars, and I need to see it in the theater. So, this is a natural addition.
So, looking at this, Disney owns my soul. I guess they never gave it back after I stopped working at their park in '08! Anyway, I know there are films that people think I should be viewing that aren't on here, because honestly? I don't care about Blade Runner or Alien. How about you, though? What is coming out that's getting your theater dollar?
Tony