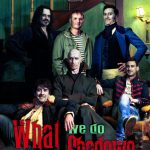 Over the weekend, my education on the films of New Zealand, in general, and Taika Waititi, in particular, was continued. You might remember my write up of the film Hunt for the Wilderpeople, that was posted about a month ago? Well, this is a continuation of that. We had another "Game Night" with no games, and after watching movie trailers on YouTube, eating pizza, and wishing our buddy Mike luck on his new adventure out in New Jersey, I was asked, "So, do you like vampire movies?" Well, I really don't, but that was ignored and then I was asked if I wanted to "see what we do in the shadows."
Um…..
After some clarification, I realized the question was, "Do you want to see What We Do in the Shadows?" and, knowing I hadn't been lead astray on the last recommendation, I agreed to check it out.
What We Do in the Shadows is a "documentary" following a group of vampires, who live together as roommates and try not to kill each other, much in the way of standard roommates. Vladislav, Viago, Deacon, and Petyr are four very different types of vampires who find their lives changing when Petyr brings Nick, a young hipster, into the fold, who in turn changes their undead lives. You know who else can tell you about this film, in a much more concise method. That's right, the folks who cut the movie trailer:
The film was from Jemaine Clement and Taika Waititi, and stars them, along with Jonathan Brugh, Cori Gonzalez-Macuer, and Ben Fransham. It is filmed in the documentary style, with the camera people being provided with a crucifix to protect them from their subjects. Each of the vampires fit a separate stereotype, from the classic style, to the Anne Rice-type, to the new douchebag that does everything but sparkles. It is fun, it is entertaining, and I've seen it be compared to This Is Spinal Tap by more professional reviewers than I. Myself, despite not being a huge fan of the genre, I found it a lot of fun, and very enjoyable. The differences between the main characters was great to watch, and the introduction of the human elements, as well as a werewolf pack, really helped break up what could just be a group of guys, complaining they can't get into clubs because they weren't invited inside.
I just wish they had touched on what type of cameras they were using. I was distracted by the thought of "Cameras use mirrors, so how are they recording vampires?" through the entire film. Yes, I hate my brain, sometimes, but it was especially troublesome when they were showing shots of mirrors that weren't reflecting vampires. It was just now, as I was writing this, that I found out that there are mirrorless cameras available, but that didn't help on Friday night!
What We Do in the Shadows has a run time of 86 minutes, and is rated R for bloody violent content, some sexual material, and language. It is available in various formats from this Amazon Affiliate Link, but not on Hulu or Netflix. If you're into funny mockumentaries, or vampire movies that don't sparkle, then this will probably be up your alley!
See you tomorrow!
Tony