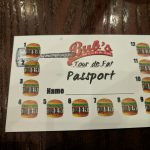 Many of my friends have a "40X40" list. For those who don't know, that's a list of forty things you want to do by the time you turn forty. I've never given these lists much thought, as I generally go through life without much of a plan to begin with, and I thought it was pointless to go ahead and give myself a deadline to try to get stuff done. Plus, let's be honest here. I've had a decent amount on my plate since, oh, 2009 or so. This does not really lend time to coming up with a list that doesn't have to do with the Geekling, my work, or this blog.
However, May 23rd is fast approaching. On that day, I hit the big four-oh. It's one of those birthdays where people of stature get a sign in their front yard that states, "Lordy, lordy! Look who's forty!" and it's only 103 days away. This has led me to thinking about those fabled 40X40 lists, and thinking about things I'd like to have done by the time I hit that, well, is it a milestone? Is forty even that big of a deal anymore? Well, as I'm already 200 words into this post, let's pretend for a moment that it is, and forge ahead.
So, while it may be anti-climactic, there really isn't anything I feel like I need to cram into the next few months. However, there are some things that pop up in my life that I would normally ignore that I'm now thinking, "Hey, that's kinda cool. Why not try it?" I'm figuring that I might as well do some random "Path to Forty" posts, talking about some of the more interesting things I'm deciding to do. That's what I'm talking about today.
The Tour de Fat
A while back, I got on the mailing list for Bub's Burgers and Ice Cream. I'm not the type to eat a 1 pound (post-cooked weight) hamburger in one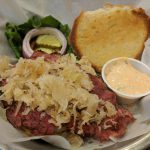 sitting, I just really like good hamburgers and ice cream. Most of the time, the emails are about how good ice cream is during the summer, or performers that were going to be at one of their locations, and I glance at them before dropping them in the trash bin. However, at the beginning of the year, one of their emails caught my eye, and ended up being one of those "Why not?" moments. It was concerning the "Tour de Fat."
The Tour de Fat is a twelve week "journey", with a new burger or sandwich every week. If you chose to participate, then you showed up the first week, ate the first burger, and then got a card with a stamp on it. Then, you go in for the remainder of the challenge, eat that week's burger, and get another stamp on the card. They have some pretty standard burgers, like a Black and Blue or a Chili Burger on the list, as well as some interesting ones like a Taco Burger, but they all look tasty. So, on the first Friday of the event, I was joined by my buddy Mike and we tried out their first specialty burger, the Reuben Burger.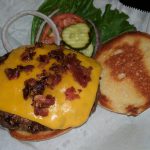 I'm not a food blogger. I just… I eat things, and I don't really think about them. However, that quarter pound Reuben Burger, paired with their onion rings and a cherry coke, wasn't bad. I've learned lately that I enjoy a decent Reuben, and when it's paired with a good burger, I'm golden. So, the next week I wasn't able to sync schedules with Mike, but Lizz joined me for the Bacon and Cheddar Stuffed Bacon Cheeseburger. I tell ya, homerdrooling.gif all the way. If I were to try a Big Ugly, that would have been the one! This week is week three, and the burger was a Pizza Burger. Since I'm currently flying to California for the Geekling's birthday, I stopped in on Tuesday to give it a devour. So far, we are three for three! While the pizza sauce was messy, it was another tasty burger! So, I'm three weeks down, nine weeks to go before I get my t-shirt, and get entered for a smoker.
Yes, I'm eating hamburgers for a t-shirt. Why not, right?
Let's see how this turns out.
Tony