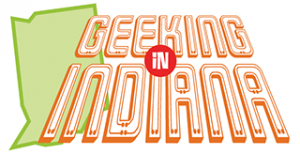 Back when this started, I was Geeking in SoCal. It was a way to kill time while I was looking for work in Southern California, during one of my less-than-successful attempts to live there. When I realized there was nothing there for me, I came back home to Indiana, and started being Geeking in Indiana. It all started, in it's first few years, as being things happening in Indiana. I liked to have a focus on items of interest to your average Hoosier Geek. The thing is, things evolve. People change. Over the past few years, I've still tried to have a focus on items of interest to your average Hoosier Geek, but I'm really trying to have them be locally-sourced items of interest to your average Hoosier Geek.
You see, I have a thing for locals. My favorite shops are Hoosier-owned, my favorite conventions are home grown, one of my favorite games is locally produced, even much of the music I enjoy is recorded in Indiana. I love my state. I mean, it's not perfect. There are a lot of rough spots here, and I'm well aware of this. However, there is a lot of good, as well, and that's what I love to spotlight. This is also why I encourage everyone to stop, for just a moment, and think about their friendly local whatever.
When you are shopping around for a comic book, graphic novel, or a game, who are you shopping through? Sure, it's quick and easy to go onto Amazon and order that new X-Wing ship, but there are a good half-dozen stores in Indianapolis along where you can probably buy that same ship, or they will be happy to order it for you, tell you when it comes in, and then help you learn the game, or set up a group to play with while you are there. You could pick up your trade paperback at the big box bookstore attached to the mall, but can you find someone there to not only share in your excitement about the title, but also recommend other similar titles you might not have read? Probably not. However, a good local shop can, and will, do all of those things with you, and they will be thrilled to have your business. Yes, I understand that we are not without our horrible, stereotypical caverns of basement-dwelling neckbeards, but we still have fantastic, friendly, welcoming shops around.
Every day, I get emails about some large company starting a Kickstarter for some new card or board game. However, it's the local creators that interest me. I love my copy of Buy the Rights, which was made by people who live in something like a five mile radius from me! Even though it didn't get funded this round, I have faith that the local crew from DNA Games will be back, and I will be able to own a copy of Havenwood Horror! I love seeing the success of local groups like ConQuest Journals, or the cool miniatures and custom dice from Impact Miniatures. Even though the local Kickstarter market isn't without its risks (I'm looking at you, LM Studios), I still have seen awesome stuff coming from local creators, and I'd much rather give them my minimal game budget funds, than a larger company elsewhere.
I could go on, and on, but you know what I mean, right? Sure, it's cool to walk into a mall and see all sorts of Geeky merchandise in every other store, or go spend money to wait in line to spend more money to get some persons name on a picture. I get that. However, remember those shops, creators, and con runners here in Indiana. They are our sisters and our brothers, and it's up to us to make sure they stick around, and keep helping us get our Geek on.
Off the soapbox, have a fantastic weekend! Don't worry, FLS Friday will be returning soon!
Tony