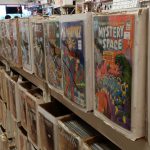 It's all good to let everyone know where they can find their friendly local shops. It's great to be able to find a place to pick up  your books, dig for toys, or toss some dice. The flip side is, a lot of times, these locations will also do cool things for the customers. These things don't translate well to an informational blog post, that will sit relatively untouched for a year or two at a time between updates! With some cool stuff happening this weekend, I wanted to take a pause to let you all know what's going on, beyond the standard Tuesday Tidbits sort of thing! Standard "Here's a cool shop!" posts will continue next week.
So, what do we have going on this weekend at some of your favorite friendly local shops?
Downtown Comics Customer Appreciation Day! On Saturday, March 4th, all Downtown Comics locations will be hosting their 24th annual Customer Appreciation Day. Head on over to either the Castleton, West Side, or Downtown locations for discounts on everything from back issues to toys and statues to clothing to CCG's and games! In addition, they will be tweeting out additional deals throughout the day, in conjunction with the…
Coast to Coast Live-Streaming Comic Con! This is a cool concept! Comic shops across the country will be hosting a live-streaming comic con, sponsored by Emerald City Comic Con, which is happening this weekend in Seattle! Happening from noon to eight on Saturday, this is accompanied by special items in your local comic shops! There will be streaming panels with professionals in the comics medium, as well as presentations from publishers and manufacturers! You can check the link for a list of participating shops, and I can tell you that the Hoosier state has twelve listed, including the Downtown Comics location, my friends at Aw Yeah Comics in Muncie, and more!
Splendor Tournament at Game Time Castleton! Take on the role of a renaissance-era gem merchant in this resource management game, and make your fortune in gem mines, transportation, and shops. Game Time near Castleton Square Mall in Indianapolis will be hosting their first-ever tournament for this 2-4 player game from Space Cowboys! Visit the Facebook event page for all the information you need to participate in this tournament that has a $5 entry fee, with 100% paid out in prizes!
Some other things you could do this weekend to help out your shops include:
Take some time, and visit one of your friendly local shops this weekend! I know, if all goes according to plan, I'll be visiting a few myself!
See you next week!
Tony