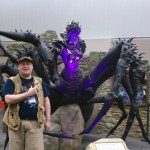 Unlike a lot of my friends, I don't have a huge history with Gen Con. I never visited when it was in  Milwaukee (I wasn't even alive when it was in Lake Geneva), and I didn't even hit the show the first few years it was in Indy. The first year I went was 2005, and I was dressed as a Rebel Fleet Trooper from Star Wars. While I was there, I saw a lot of games, I talked to Red Octane about their dance pads (and saw a demo for their upcoming game, Guitar Hero), and I was THIS CLOSE to finally ridding the Earth of the scourge known as Adam Sessler, as he was interviewing people for X-Play and he homed in on my party.
Fast forward to 2011, and I hit Family Fun Day with the Geekling, my ex, and a friend. The Geekling got over-
stimulated fairly quickly, but I was able to head back, play some X-Wing, and look around a bit more, marveling at how it had grown in the past six years. This was around when I was starting to get the blog back up and running, after the crash of 2010, where we learned that I know jack-all about WordPress development.
For 2012, I won tickets, and started writing articles on the blog about what I was looking forward to at the show. I was looking forward to trying out some more X-Wing, seeing a lot of costumes, getting the set of Drow dice that year, and just being social. I accomplished most of those, and wrote a series of posts about it, as I was putting more and more focus on the blog.
In 2013, I did my first run as a member of the press. I hadn't the foggiest idea of what I was doing, but I made the best of it. That was the year I attempted the "Tony's Metal Bikini" fundraiser for Easter Seals Crossroads (look it up, I'm not dragging out that photo again!), and looking back, I was in a world of hurt. However, that didn't stop me from getting back into D&D (briefly, for the moment), and Magic: The Gathering (also briefly). I had the opportunity to meet John Kovalic, creator of Dork Tower and artist for Munchkin, as well as demo his game, ROFL.  It was probably the first year I really took advantage of the actual gaming aspect of Gen Con, where up until this point, I was mainly just looking at the bright colors, the costumes, and saying hi to friends.
Fast forward again to 2014, and I had just moved into a new apartment the week of the convention, not one of my shining moments in life. Hero's Emporium had just opened, so I attended a pre-Gen Con party there, after moving all day! Thursday is when I finally bought my first Fez, which has been a part of me ever since (and now you know!). I also attempted to do some interviews for an upcoming podcast, but sadly those interviews never saw the light of day, because after they were recorded, I had no idea what to do with them! I also had the opportunity to moderate a Creating Comics panel, talk to people, play games, and generally really get into the swing of things with the blog.
In 2015, I finally had some episodes of the podcast under my belt, so I went even more "press" with interviews for the Indiana Geeking Podcast. I kicked off the weekend with my first visit to the Tapping Party on Georgia Street, then I hit the ground running. I had interviews for the Indiana Geeking podcast, including interviews with the cast and crew of LARPs: The Series (link), who were just fantastic! I had the opportunity to catch Concert Against Humanity, and I just ran myself ragged doing work for the blog.
Last year (2016), I focus more on local events, which was a relaxing change of pace, but didn't get me as much content, because why would I take time away from people who I can easily talk to, and keep them from folks who can't easily talk with them about their games? Either way, I had an amazing experience helping TechPoint promote their League of Xtraordinary Programmers, saw the El33ts perform, and had a more laid-back experience. Added bonus: I ran into the aforementioned LARPs crew, and they remembered me!
This brings us to 2017, the 50th Anniversary. Lizz and I are both going to be at the show, myself for the eighth time, and Lizz for her first. While I will write more about it next week, my goals for this year are a copy of Star Trek Adventures, a set of Star Trek Adventures dice (in red), Gen Con dice set, and the new Gen Con fez from Fez-O-Rama, because I need to switch things up a bit! I've got a half-dozen interviews lined up, as well, so the podcast will keep going after the show, I guarantee! Either way, I'm interested to see what my experiences will be like this year.
Now, of course, I'm not directly linking to any of these posts, because some of them are (in my eyes) pretty cringe-worthy. Still, it's interesting to see how the blog has grown over the years by looking at them! If you're curious, check out the "Gen Con" category here on the blog, at this link!
See you tomorrow, with the final pre-Gen Con Podcast for 2017!
Tony