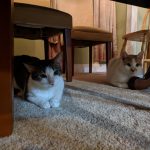 Happy Tuesday, my fellow Geeks! We are back with another installment of Tuesday Tidbits! At the end of this week, we are rolling into December, which has a holiday for just about everybody to get ready for, so things are pretty light! However, that doesn't mean there isn't ANYTHING to do! Oh, no. Our local businesses are doing what they can to keep you learning, and and creating, with courses on 3D Printing and Sewing. We have book signings in Indianapolis and Muncie! Plus, we are starting to look ahead to 2018 this week! That's right, we've got a month left in 2017, and we want to keep looking forward!
So friends, pull out your calendars, and start marking your dates to ring out 2017, and how to get going with a creative "BANG" in 2018!
Let's go ahead, and look at the last month of 2017, December!
Hey, it's almost 2018! Let's look ahead to January!
January 6th: Pattern Reading! Are you just getting into sewing, and you have no idea how to use that pattern you picked up off of Etsy, or at the fabric store? This class will teach the basics of buying patterns, and how to use it! Starting at 1PM, it's hosted by Incognito by Aris and Rome, and Creative Energy Arts!
January 6th: Introduction to EVA Foam! EVA Foam has become the savior of many cosplayers, helping replicate the look of hard armor on many types of costumes. This class will be an introduction on how to use it, including safety precautions (dust mask and eye protection required). $30, and you'll learn everything you need to take home your own gauntlet. Starts at 5PM, and is hosted by Incognito by Aris and Rome.
January 7th: The Return of Star Trek Discourse! The winter break is over, and Star Trek Discovery is back! This means Star Trek Discourse will be returning to the Indy Pop Con Facebook Page! We will be reconvening on Facebook Live an hour before the show starts on CBS All Access, and we'll be discussing the mid-season closer/end of chapter one, "Into the Forest"!
Now, what's happening with the blog, the blogger, and friends of the blog?
This Week's Photo: Cats, hiding under the table, irritated that I wanted to take a picture of them. However, I feel the need to prove they are, in fact, still around.
Kickstarter – Clockwork Creatures: This new Kickstarter by friend of the blog Mike Ficarra is a really interesting take on Kickstarter. Head over to the page to check it out, before it goes away on December 24th!
Kickstarter – Five Year Mission Year Four: Five Year Mission is a local rock band who plays music based on the original Star Trek television series! You might have heard their music opening recent episodes of the Indiana Geeking Podcast. Now, they have the Kickstarter up for their newest album, Year Four! The awesome thing? This funded in the first twenty four hours. AND they have already hit many of their stretch goals! This means you get more than just an album for just $10 ($10 gets you just the CD, $15 gets you one signed, and so on)! Check it out before it beams away on December 22nd!
IndieGoGo – cy.PIPES VR: If you were at Starbase Indy, you might have had the opportunity to check out the VR rig set up by Chauncy Frend from IU. If you remember how the fans and the heat lamps made you feel like you were actually in the hot air balloon, this is the controller that took care of all of that! Check out the campaign for all of the information, and help make this a thing that gets out there!
Support Geeking in Indiana: If you look to the right hand side, there is a support link for the blog. In this link, you'll find information on the following:

NEW MyMerch Shop! Where you can buy Geeking in Indiana t-shirts, hats, mugs, and more! Added bonus: MyMerch is a Hoosier company! #SupportLocal
Geeking Shop! This is where you find the merchandise I keep in stock at the Geek Cave. Pins, magnets, patches, and fidget spinners, while supplies last!
Affiliate Info! Amazon Affiliate Links, mainly, including gift idea affiliate posts.
Other sites! Paypal, Patreon, Ko-Fi, and more!

Do you like how the blog looks? Then check out Studio 27 Indy and TikiKitchen Design. I just write this stuff. They're the ones that make me look good. Also, check out the art page on TikiKitchen Design! There's some great stuff on there! It's TikiBitchin!
Have a great week, and I'll see you soon!
Tony