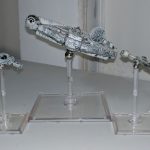 Happy Tuesday, my friends! I hope we all had a fantastic weekend! I spent mine in Southern California with the Geekling, celebrating their leveling up to level eight! We saw The Lego Batman Movie, hit a few Toys R Us stores, visited the comic book shop (4 Color Fantasies in Rancho Cucamonga. Check them out if you're in the area!), and watched a lot of Roblox videos on YouTube. Seriously, a lot of them. I don't even know what Roblox is, but the Geekling knows where all of the videos are! Now, I'm back in Indiana with no travel plans for the next few months, so I'm going to be able to focus on the blog even more, especially the extra media stuff!
I might even try to figure out what the frak Roblox is.
Now, we are well into February:
February 18th: Boiler Con! This is a one day show, held at the Purdue Memorial Union in West Lafayette, from 12:30 PM to 6:30 PM. Visit the Facebook Event Page for more information!
February 24th – 26th: Anime Crossroads! This yearly anime convention is held at the Wyndham on the west side of Indianapolis, and to my understanding, has been a fairly popular event! Get more information on their website!
February 25th: NWI Comi-Con! I have heard nothing but good things about this show up in Schererville, at the Halls of St. George! Visit their website for more information, including their guest list!
Looking ahead to March:
Now, what's happening with the blog, the blogger, and friends of the blog?
This Week's Photo: 
Make a Wish come true! A couple of weeks ago, I wrote about Wish One: Eli's Story, which is a Make-a-Wish campaign for a local kid who wants to hit Star Wars Celebration. Check it out, and give if you can!
The Geek's Guide to Indianapolis: Friend of the blog Chris Meadows has relisted his Geeky guide to Indianapolis up on Amazon! Newly updated, and newly edited!
Do you like how the blog looks? Then check out Studio 27 Indy and TikiKitchen Design. I just write this stuff. They're the ones that make me look good.
Support the Blog: So far, I have podcast hosting, Dropbox, and Adobe Creative Cloud (student subscription, I'm not THAT rich!) covered, thanks to friendly awesome supporters! However, I could still use help, to make sure I have enough for domain name hosting, equipment improvements, and convention tables!
That's it for this week, as we are firmly set in 2017! I'll see you all tomorrow!
Tony