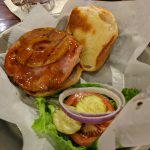 Happy Tuesday, my friends, my readers, and those who stumbled into this and have yet to hit the "Back" button on their browser! It has been unseasonably comfortable lately here in the Hoosier state, but I'm not going to let this indicator of our inevitable demise as a planet bring me down! Nope, instead I spent the weekend running errands, seeing friends, and completely reworking the Geek Cave office to prep for new desks and Lizz's upcoming summer term as she starts working on her Masters degree. I've also set up the microphone to prep for the podcast's return, and I'm looking at lighting for some of my first YouTube videos. I'll admit, I've been procrastinating on the next steps for the puppet, as my hand sewing skills are rusty, and my machine sewing skills are even worse, but I'll be jumping back onto that this coming weekend, because nobody wants to see me on the 'Tubes!
Now, let's see what's happening for Hoosier Geeks!
February is almost in the history books, but:
Looking ahead to March:
Rolling from March to April:
Now, what's happening with the blog, the blogger, and friends of the blog?
That's it for this week, as we roll our way through 2017! I'll see you all tomorrow!
Tony