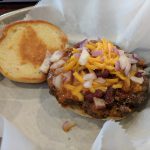 Happy Tuesday, my friends! It's another beautiful… rainy day, that is trying to psych us out into thinking there will be snow by this weekend! I will try to be an optimist for you all, though, especially for those who are travelling north to Elkhart for the first Hall of Heroes Comic Con! While that looks like it's going to be kinda cool, I'm keeping myself close to home this weekend, with a friend's 40th Birthday Party on Friday night, and just puttering around the house Saturday and Sunday. Perhaps I'll get motivated to pick up a needle and thread, and start the part of the puppet I'm not feeling too confident about? We shall see. However, for now?
Now, let's see what's happening for Hoosier Geeks!
Now we're in March:
Rolling from March to April:
Now, what's happening with the blog, the blogger, and friends of the blog?
This Week's Photo: As in the past few weeks, it's the next entry in the Tour de Fat challenge! It's the Chili Burger!
Be a Hero to Hero House: Hero House Comics in Fountain Square is ran by a pretty damn cool guy who needs a little bit of help. Please visit the Go Fund Me page and help out where you can! Also, go in, and buy stuff from him!
Make another Wish come true! Good news, everybody! The Wish has been granted, and Eli is going to Celebration in Orlando! Can we keep this going, though with Cassidy? Take a look at the link for more info!
Tour de Fat: For those who are curious, I'm still going with this! Week six was the Chili Burger, with shredded cheese, their chili, and onions. Oh, this one was a mess! A delicious mess, but a mess none the less! Still, not one of the top three burgers I've had. Let's start keeping track:

1) Bacon & Cheddar Stuffed Bacon Cheeseburger
2) Reuben Burger
3) Hawaiian Burger
4) Pizza Burger
5) Chili Burger
6)  Taco Burger

Do you like how the blog looks? Then check out Studio 27 Indy and TikiKitchen Design. I just write this stuff. They're the ones that make me look good.
Support the Blog: So far, I have podcast hosting, Dropbox, and Adobe Creative Cloud (student subscription, I'm not THAT rich!) covered, thanks to friendly awesome supporters! However, I could still use help, to make sure I have enough for domain name hosting, equipment improvements, and convention tables!
That's it for this week, as we roll our way through 2017! I'll see you all tomorrow!
Tony