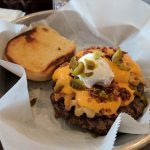 It's another fantastic Tuesday, my friends! The sun is shining… wait, no, it's now cloudy, but at least it's war….. wait, there's some snow! Ah, yes, it is March in Indiana! So far, the weather hasn't been good for those Geeks who want to get outside, but it's great for those who are anxiously awaiting next week's release of Mass Effect: Andromeda! You know, as long as a freak ice storm doesn't roll in and knock out power! Anyway, it looks like most people had a good time this past weekend, and this coming weekend looks to be another good time, with shows in Kokomo on Saturday, and here in Indianapolis on Sunday! Myself? I'm trying to get a couple weeks worth of writing taken care of, so I can dedicate some time to the aforementioned Mass Effect: Andromeda next week! Let's hear it for Amazon Gift Cards!
Now, let's see what's happening for Hoosier Geeks!
We're pretty settled into March:
Rolling from March to April:
Now, what's happening with the blog, the blogger, and friends of the blog?
This Week's Photo: As in the past few weeks, it's the next entry in the Tour de Fat challenge! It's the Sloppy Burger!
Be a Hero to Hero House: Hero House Comics in Fountain Square is ran by a pretty damn cool guy who needs a little bit of help. Please visit the Go Fund Me page and help out where you can! Also, go in, and buy stuff from him!
Make another Wish come true! Good news, everybody! The Wish has been granted, and Eli is going to Celebration in Orlando! Can we keep this going, though with Cassidy? Take a look at the link for more info!
The Shake Ups in… BEACH CITY? You might have heard of the local musical group, The Shake ups, with their project, The Shake Ups in Ponyville. It's fun, well done, and family-friendly music set around the popular show My Little Pony: Friendship is Magic. The band, while still working on that project, has also set their sights on another property: Steven Universe! The release party for the first The Shake Ups in Beach City album isn't until May (look for more information on that, coming soon!) but for now, they have two new songs off the album, their version of the Theme Song, and "Cheeseburger Backpack", an original piece. Both of those links bring you to the YouTube videos for each song! Stay tuned for more in the future!
Tour de Fat: For those who are curious, I'm still going with this! Week seven was the Sloppy Burger, which tosses their Sloppy Waffles on a burger, with waffle fries, bacon, liquid cheese, sour cream, and diced jalapenos. Another drippy mess (as evidenced by "Sloppy" in the title) that was solid, but not outstanding. I'm placing it above the Taco Burger, though, since it was more flavorful. Next up: A German Dog? Huh.

1) Bacon & Cheddar Stuffed Bacon Cheeseburger
2) Reuben Burger
3) Hawaiian Burger
4) Pizza Burger
5) Chili Burger
6) Sloppy Burger
7)  Taco Burger

Do you like how the blog looks? Then check out Studio 27 Indy and TikiKitchen Design. I just write this stuff. They're the ones that make me look good.
Support the Blog: So far, I have podcast hosting, Dropbox, and Adobe Creative Cloud (student subscription, I'm not THAT rich!) covered, thanks to friendly awesome supporters! However, I could still use help, to make sure I have enough for domain name hosting, equipment improvements, and convention tables!
That's it for this week, as we roll our way through 2017! I'll see you all tomorrow!
Tony