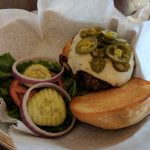 Happy Tuesday, my friends! I hope everybody had a good weekend! Myself, I did a little social media "detox" by not visiting Twitter, Facebook, or pretty much even using my computer over the weekend. Instead, I did cleaning, learned I can haul 8' 2 by 4s in the Cardis ('05 Scion xb), and played a couple hours worth of Mass Effect: Andromeda. Over the course of the weekend, I ended up with 26 notifications and 4 messages on Twitter, 17 notifications on the personal Facebook page, and 2 notifications on the blog's Facebook page, all of which were addressed on Monday. Later this week, look for a blog post explaining what's going on further.
In the meantime, this week we're looking at the events of April and May, as well as blog news and other cool things happening in the Hoosier Geekosphere, which is totally not a word I made up that already existed.
Now, let's take a look at the calendar and see what's going on!
No foolin', April is halfway over:
Looking ahead to the month of May, where there is more than racing happening:
May 5th: Strange Universe Music Night! Radio Radio will be hosting not one, but three awesome acts on Friday night! In no particular order, there will be Time Crash (a Chicago-based band doing music based on Doctor Who), Goblin King (a Labyrinth/Bowie tribute by local Jason Bambery), and the CD Release of the Shake Up's newest project, the Shake Ups in Beach City (a Steven Universe-inspired music project)! Check out the link, and I hope to see you there! (21 and over, only!)
May 6th: Free Comic Book Day! A day celebrated by comic shops across the state! Visit the link for more information, and look for a blog post on the week of to see what shops are doing what! I know, as of right now, Aw Yeah! Comics in Muncie has a solid list of professional guests, and Downtown Comics is going to be hosting a fundraiser for the Payton Manning Children's Hospital with the Circle City Ghostbusters!
May 6th: Shake Ups All-Ages CD Release! To celebrate the release of their new CD, The Shake Ups in Beach City will be holding an all ages show in Fountain Square, at Hero House Comics from 6:30 PM to 8:00 PM. It's a great way to cap off Free Comic Book Day!
May 21st: Cullen Bunn Signing! Aw Yeah Comics in Muncie will be hosting writer Cullen Bunn from 1:00 PM to 4:00 PM. Known for his work on Deadpool Kills Deadpool for Marvel, and his own work, Harrow County, you'll be able to meet him and get your books signed!
May 23rd: I turn 40. I know, not really that big of a deal, but my mind has it as a milestone, so here we go.
Now, what's happening with the blog, the blogger, and friends of the blog?
This Week's Photo: It's another #TourdeFat picture! This past week was the Hot & Spicy Burger, which tasted great, but did not make my aging stomach very happy.
Be a Hero to Hero House: If you didn't see it in their FLS Friday post, Hero House Comics in Fountain Square is ran by a pretty damn cool guy who needs a little bit of help. Please visit the Go Fund Me page and help out where you can! Also, go in, and buy stuff from him!
Burner – A Novel of Ghosts, Murders, and Deadly Secrets! Local author J. S. Lenore is working on publishing her first book, which involves a Chicago Police Officer who can speak with the dead. I heard about this through some good friends, so I think you all might be interested in this Kickstarter!
Tour de Fat: For those who are curious, I'm still going with this! Week eleven was the Hot & Spicy Burger, with cajun seasoning on the patty, pepper jack cheese, hot sauce, and grilled jalapenos. It was a dang tasty burger, but it was hot. Ten years ago, I probably would have loved to have one of these as a Big Ugly one pounder. Now? Oh, I regretted it the following day. I didn't regret it so much, though, that it didn't break into the top three! It knocked out the Hawaiian Burger for the number three spot! This week is the final week of the Tour de Fat, and it is a group of sliders.

1) Bacon & Cheddar Stuffed Bacon Cheeseburger
2) Reuben Burger
3) Hot & Spicy Burger
4) Hawaiian Burger
5) Pizza Burger
6) Black & Bleu Burger
7) BBQ Bacon & Cheddar Burger
8) Chili Burger
9) Sloppy Burger
10)  Taco Burger
11) German Dog

Do you like how the blog looks? Then check out Studio 27 Indy and TikiKitchen Design. I just write this stuff. They're the ones that make me look good.
Support the Blog: So far, I have podcast hosting, Dropbox, and Adobe Creative Cloud (student subscription, I'm not THAT rich!) covered, thanks to friendly awesome supporters! However, I could still use help, to make sure I have enough for domain name hosting, equipment improvements, and convention tables!
That's it for this week, as we roll our way through 2017! I'll see you all tomorrow!
Tony